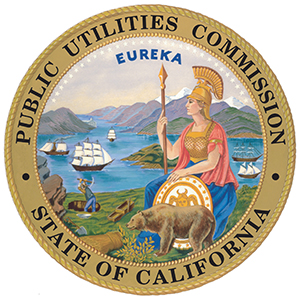 California Public Utilities Commission


CPUC Streamlines Process For Consumers To Enroll In 3rd Party Energy Programs
---
Aug 28, 2017
The California Public Utilities Commission (CPUC) has streamlined, simplified, and automated the process for customers to authorize their utility to share their energy related data with a third-party demand response provider, an essential step in enrolling in a third-party retail program, which will be expanded to other distributed energy resources in the future. 
Customer privacy rules of the CPUC require a customer to consent before a utility can share their specific data with a non-utility third-party.  Currently, customers use a paper form or a lengthy process on a utility website to authorize release of data to third parties. This makes it difficult for third-party demand response providers to quickly access the data for enrollment and operational purposes. 
The "click-through authorization" process approved by the CPUC yesterday (8/24) enables a customer to authorize their utility to share the customer's data with a third-party demand response provider by completing a consent agreement electronically. Authorizing data sharing is an essential step in the process of enrolling in and beginning a third-party program because the provider needs access to a customer's data in order to provide demand response services.
Said Commissioner Martha Guzman Aceves, "The click-through processes we adopted yesterday (8/24) will dramatically simplify the process of enrolling new customers in demand response programs when customers agree to reduce their electricity use in response to signals when needed to support grid reliability.  Streamlining the onerous paper and online sign-up processes should give demand response providers confidence in their ability to successfully register new customers and their products while also protecting customer privacy.  This has been a critical step needed to expand demand response programs, which can play a crucial role in California's clean energy future." 
Added Commissioner Clifford Rechtschaffen, "The CPUC has taken an important step toward streamlining and simplifying access to data. I encourage stakeholders to work together, as they have up until now, to ensure this process is successfully expanded to other programs where access is essential."
The proposal voted on is available at http://docs.cpuc.ca.gov/PublishedDocs/Published/G000/M194/K595/194595312.PDF.
For more information:
Organization:
California Public Utilities Commission (CPUC)

Address:
505 Van Ness Avenue
San Francisco, California
United States, 94102
http://www.cpuc.ca.gov/aboutus/

Contact:
Terrie Prosper, Director–News & Public Information
California Public Utilities Commission
Tel: 415.703.1366
E-mail: news@cpuc.ca.gov