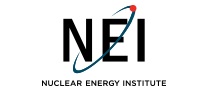 Nuclear Energy Institute


Small Reactors Can Challenge Natural Gas on Economics
---
October 4, 2017
Small modular reactors (SMRs) could rival the costs of natural gas plants if the risks typically facing new technologies are properly addressed, says a new study by SMR Start, the consortium of SMR developers and potential customers formed in January 2016 to help commercialize small reactor technologies.
"There are many conditions and scenarios that could occur that would result in SMRs being comparable with the costs of a natural gas combined cycle plant," the report, "Economics of Small Modular Reactors," says.
"The first SMRs are expected to be within the range of natural gas plants costs assuming appropriate private-public partnerships to help reduce technology risks and keep first-of-a-kind costs low."
The report evaluates market opportunities, commercialization time frames and cost competitiveness for SMRs. The report builds on a February 2017 policy paper detailing the importance of public-private partnerships. The report also assesses various policy tools to help first movers overcome the costs of first-of-a-kind technology, including production tax credits, investment tax credits, loan guarantees, power purchase agreements and other policy tools.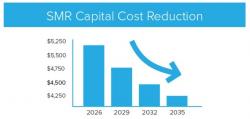 "By 2030, after the first few plants begin operation, SMRs would be cost-competitive without further private-public partnerships," the new report says. "For most scenarios, the costs of SMRs are within the range of natural gas plants, such that a utility could choose an SMR based on factors such as long-term price stability and fuel diversity."
There already is solid customer interest in deploying SMRs in the United States. The Utah Associated Municipal Power System (UAMPS) in partnership with NuScale Power LLC and power utility Energy Northwest, are planning the first U.S. SMR plant at the Idaho National Laboratory. The Tennessee Valley Authority also is considering an SMR at its Clinch River site.
"There are many more potential customers that are interested in SMRs once the technology risk has been addressed by the first movers, although most have not revealed their interest publicly," the report says. "SMRs are attractive to utilities that could previously never consider owning a nuclear power plant, such as municipal utilities, in that they are more affordable with smaller up front capital costs and have capacities that are more in line with the market need."
SMR Start estimates that current U.S. customer interest in SMRs, including the first movers, could result in five SMR plants being in operation by 2030. Helping drive this interest is the flexibility of small reactors.
"SMRs offer flexible baseload capacity, allowing these plants to integrate well with intermittent renewables," the report says. "SMRs are including the capability to load-follow early in the design, and when these reactors combine the production of industrial heat into the hybrid energy system, they are able to alternate between heat and electricity to assure a constant output of energy and stream of revenue."
SMRs also can power microgrids to provide highly resilient power for national security and mission critical activities, as well as the ability to replace retired fossil fuel plants.
China and Russia are supplying 65 percent of the nuclear reactors planned or under construction around the world, while the U.S. supplies only 7 percent, SMR Start says. Overseas interest in small modular reactors for various applications including electricity or heat generation could help the U.S. level the playing field in international nuclear trade.
"Commercializing SMRs would provide the U.S. with the technology and credibility to begin increasing the supply of new plants around the world. Other countries already are seeking out U.S. SMR technology, which represents a golden opportunity to improve U.S. leadership in nuclear energy and geopolitical influence," NEI Senior Project Manager of New Reactor Deployment Marc Nichol said.  
For more information:
Organization:
Nuclear Energy Institute (NEI)

Address:
1776 I St NW
Washington, District of Columbia
United States, 20006-3708
www.nei.org
Tel: 202-739-8000

Contact:
Nuclear Energy Institute (NEI)
Tel: 202.739.8000 or 703.644.8805
E-mail: media@nei.org