Get your site operational fast, with a long lasting solution.
Whether you need a 30' x 170' sub-station building or an 8' x 12' enclosure for a generator, we have the solution. Easi-Set Precast Concrete Buildings has been a time-tested option for Electric Utilities for over four decades. They outperform and outlast metal, wood or masonry. They are resistant to just about anything Mother Nature or human nature will throw at them. These cost-effective buildings are pre-engineered, industrial-duty, with clear span Easi-Span roofs and precast floors, in sizes from 8'x12' to 50'x250', and heights up to 35'. Smaller sizes are delivered pre-assembled.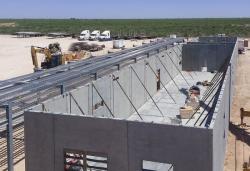 We assemble larger sizes in just hours, requiring less interference from outside crews on your site. All our buildings are manufactured in a factory setting to high quality control standards. They also require minimal site preparation, saving you time and money. These buildings can even be assembled around existing equipment. They are available in standard sizes or can be designed for custom applications. Engineered to handle 160 mph wind loads (higher options available), they are weather-tight. Up to a certain size they can be set on concrete piers for flood plain use.
At Easi-Set, we strive to offer the most cost-effective building solutions to our customers, backed by excellent customer service. Easi-Set Buildings provide durability, flexibility, convenience, cost-effectiveness and long lasting security. Easi-Set Buildings are maintenance free, reducing ongoing expenses. The patented post-tensioned roof and floor systems provide even greater weather-tightness and impact resistance than other concrete choices. Easi-Set and Easi-Span buildings are 100% steel reinforced precast concrete, UL-752 level 5 bulletproof, Category C Seismic (heavier available) and certified by 3rd party engineers. Our buildings are available with a range of interior and exterior outfitting options, including HVAC, lighting, plumbing and electricity, to name a few. Easi-Set Buildings are manufactured nationally by local producers under a License Agreement with Easi-Set Worldwide.
Perfect for: Electrical Transmission and Distribution, Mechanical, Pumps Houses, Generator Housings, Communications Sheds, Hazmat Storage, Blast Shelters, Maintenance, Restrooms, Shelters, Field Stations, Laboratories, Offices, Storage and much more!
Learn more about all the options Easi-Set Buildings offers for utility companies.