Rick Perry, secretary of the U.S. Department of Energy, has asked the agency to prepare a study on the country's electric grid which will offer policy recommendations to ensure that reliable, baseload generation sources are preserved. 
"There are significant changes occurring within the electric system that could profoundly affect the economy and even national security, and as such, these changes require further study and investigation," Perry said. "We are blessed as a nation to have an abundance of domestic energy resources, such as coal, natural gas, nuclear, and hydroelectric, all of which provide affordable baseload power and contribute to a stable, reliable, and resilient grid. Over the last few years, however, grid experts have expressed concerns about the erosion of critical baseload resources."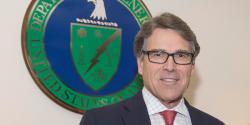 Photo: Secretary of the U.S. Department of Energy Rick Perry. [Photo: DOE photographer, Ken Shipp]
In a memorandum to his chief of staff, Perry said that new regulatory burdens are creating serious problems for baseload generating electricity sources which help keep the electric grid stable.
"Specifically, many have questioned the manner in which baseload power is dispatched and compensated. Still others have highlighted the diminishing diversity of our nation's electric generation mix, and what that could mean for baseload power and grid resilience," Perry said. "This has resulted in part from regulatory burdens introduced by previous administrations that were designed to decrease coal-fired power generation. Such policies have destroyed jobs and economic growth, and they threaten to undercut the performance of the grid well into the future."
Perry also said federal subsidies are distorting electricity markets, creating "acute" problems for baseload generation.
"Analysts have thoroughly documented the market-distorting effects of federal subsidies that boost one form of energy at the expense of others," Perry said. "Those subsidies create acute and chronic problems for maintaining adequate baseload generation and have impacted reliable generators of all types."
NEI Senior Director of Policy Development Matt Crozat said unless prompt action is taken, more valuable baseload energy plants could be at risk of prematurely shutting down.
"Competitive electricity markets are not producing price signals to stimulate investment in new generating capacity with the exception of natural gas or to support continued operation of existing power plants," Crozat said. "By undervaluing nuclear power plants, current market policies and practices threaten the diversity of our nation's generating portfolio and our ability to meet environmental goals. We look forward to the agency's report on electricity markets and will continue to work with the administration to address these critical issues in U.S. electricity markets."
Perry asked that a report be completed in June and asked that it explore:
the evolution of wholesale electricity markets, including the extent to which federal policy interventions and the changing nature of the electricity fuel mix are challenging the original policy assumptions that shaped the creation of those markets;
whether wholesale energy and capacity markets are adequately compensating attributes such as on-site fuel supply and other factors that strengthen grid resilience and, if not, the extent to which this could affect grid reliability and resilience in the future; and
the extent to which continued regulatory burdens, as well as mandates and tax and subsidy policies, are responsible for forcing the premature retirement of baseload power plants.
The results of this analysis will help the federal government formulate sound policies to protect the nation's electric grid, Perry said.
"In establishing these policies, the Trump administration will be guided by the principles of reliability, resiliency, affordability, and fuel assurance principles that underpin a thriving economy."