Electric Energy Magazine is published 6 times a year by:
Jaguar Expo Inc.
CP 50514 Carrefour-Pelletier
Brossard, Quebec Canada J4X 2V7
Tel.: (888) 332-3749
Fax: (888) 243-4562
E-mail:
jaguar@jaguar-media.com
Electric Energy T&D Magazine serves the fields of electric utilities, investor owned, rural and other electric cooperatives, municipal electric utilities, independent power producers, electric contractors, wholesalers and distributors of electric utility equipment, manufacturers, major power consuming industries, consulting engineers, state and federal regulatory agencies and commissions, industry associations, communication companies, oil & gas companies, universities and libraries.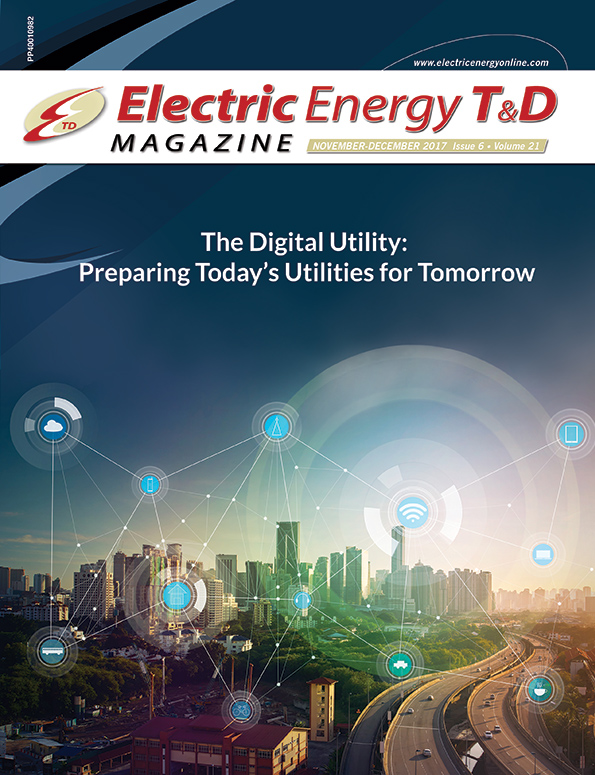 (4MB)
3
Elisabeth Monaghan, Editor-in-Chief
In October, I had the opportunity to attend the Bentley System's Year in Infrastructure Conference 2017.
10
Bart Thielbar
While the utility industry has long been a traditional bricks and mortar business, today disruptive digital technologies are driving utilities to go beyond simply providing energy.
14
Erik Drost
Homeowners are beginning to expect their homes to be connected and are turning to builders and electricians to add intelligence.
16
Tom Reddoch and John Halliwell
As part of a collaborative R&D project with utilities, EPRI and Eaton are testing Eaton's new circuit breaker, which is designed to improve utility service reliability through monitoring and control of consumer loads – and to provide customers information on their electricity use patterns.
17
Sean Morash
In a recent pilot project, utilizing commercial and industrial customers' stationary energy storage battery resources, the performance of large capacity battery storage systems, as they responded to demand response signals from a utility, was measured, analyzed and verified.
19
Alan Ober
As power transformers at generation facilities near end-of-life cycles, a number of potentially dangerous events can come into play – in addition to untimely power outages and costly repairs.
21
Raka Levi
Managing On Load Tap Changer (OLTC) fleet depends on the assessment of their condition. In addition to the insulation condition, dynamic performance characteristic is the most important factor defining suitability for operation.
25
Brian Bradford
Tremendous transformational capabilities have been wrought in the electric utility industry thanks to the Internet of Things (IoT) and the introduction of distributed energy resources at the edge of the distribution grid.
28
CyberLock, Inc.
The repercussions from 9/11 and continued terrorist threats have put increased pressure on water utilities to secure their physical assets and electronically track anyone that accesses their facilities.