Electric Energy Magazine is published 6 times a year by:
Jaguar Media Inc.
834 Montée Masson
Terrebonne, Quebec Canada J6W 2C6
Tel.: (888) 332-3749
Fax: (888) 243-4562
E-mail:
jaguar@jaguar-media.com
Web:
www.electricenergyonline.com
Electric Energy T&D Magazine serves the fields of electric utilities, investor owned, rural and other electric cooperatives, municipal electric utilities, independent power producers, electric contractors, wholesalers and distributors of electric utility equipment, manufacturers, major power consuming industries, consulting engineers, state and federal regulatory agencies and commissions, industry associations, communication companies, oil & gas companies, universities and libraries.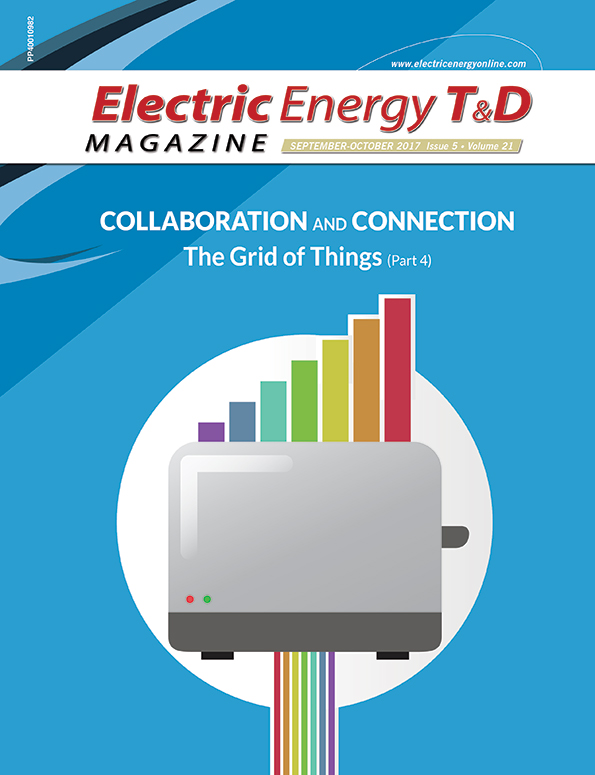 (3MB)
3
Elisabeth Monaghan, Editor-in-Chief
In the July/August 2017 issue of EET&D, I wrote that I am looking into buying a new car.
8
Bill Meehan, Geoff Zeiss, David Socha, Dr. Robert Sarfi, Mike Goggin, Matt Sheehan, Dr. John J. Simmins, and Zac Canders
How can we, the industry, become interoperable? It's a question on the minds of most utility executives and service providers. And while the answer is a simple word, collaboration, how we, the industry, achieve this vision is a little more elusive.
14
Brandon Bartling, Tim Hebrink, Michael Yandrasits and Krzysztof Lewinski
Exponential growth in solar and wind renewable energy generation has the potential to create grid instability. Both solar- and wind-generated energy are intermittent sources that fluctuate in energy delivered to the grid.
17
Walt Johnson and Christine Hertzog
In order to facilitate integration of more distributed energy resources (DER) into distribution grids, U.S. utilities will have to apply standards that present opportunities and challenges as they create flexible, interoperable, and secure data and communication architectures.
19
Mike Smith
Regulations, corporate drivers, leadership and market influences have combined to produce a patchwork of uneven progress on critical utility industry initiatives such as distributed generation, customer choice, asset optimization and the industrial Internet of Things.
21
Jennifer Gannon
Space weather continually affects the earth, as plasma ejected from the sun interacts with the earth's natural magnetic field. We are often unaware of the geomagnetic storms that occur from month to month, due to solar coronal holes, high-speed streams, and coronal mass ejections.
23
Pranav Shanbhag and Shaswat Anand
Senior leaders at global energy and utility companies have the vision and passion needed to make innovation happen. Yet they do not often enough see their efforts as being successful in driving growth, according to recent industry research.
25
Brad Harkavy
Few analysts have ever accused the utility industry of being an early adopter of cutting edge technology. Unlike other industries where fierce competition demands constant technological innovation, the utility's main concern is reliability.
28
Dr. Tim Shaw
Recently I overheard a couple of supposedly-knowledgeable cyber security experts discussing the amazing (to them) range of microprocessorbased devices they were running into in a power generating station where they were working with the electric utility to achieve compliance with the everevolving NERC CIP requirements.