Electric Energy Magazine is published 6 times a year by:
Jaguar Expo Inc.
CP 50514 Carrefour-Pelletier
Brossard, Quebec Canada J4X 2V7
Tel.: (888) 332-3749
Fax: (888) 243-4562
E-mail:
jaguar@jaguar-media.com
Electric Energy T&D Magazine serves the fields of electric utilities, investor owned, rural and other electric cooperatives, municipal electric utilities, independent power producers, electric contractors, wholesalers and distributors of electric utility equipment, manufacturers, major power consuming industries, consulting engineers, state and federal regulatory agencies and commissions, industry associations, communication companies, oil & gas companies, universities and libraries.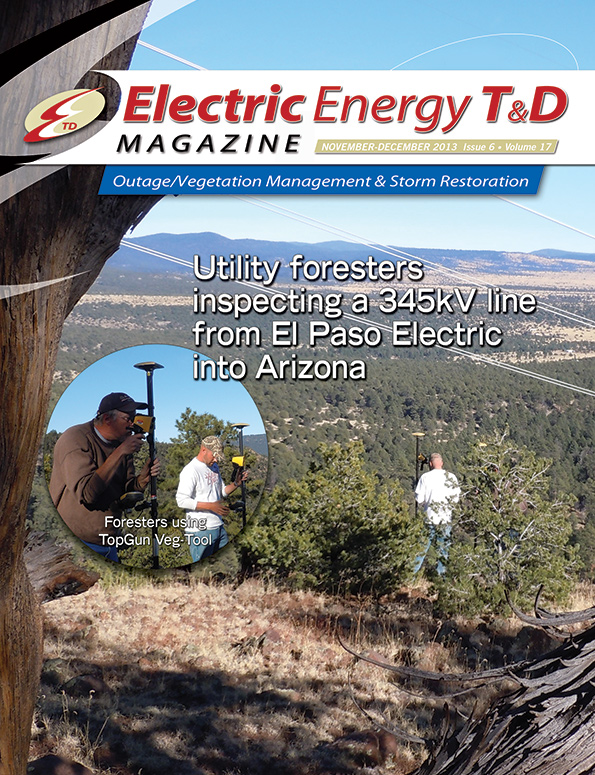 (3MB)
4
James W. Dow
Prudent vegetation management, as applied to electric power transmission, embodies prudent risk management.
11
Edward H. Kennedy
Ten years ago an overgrown tree near Cleveland, Ohio started a chain reaction that caused the blackout of 2003, a cascading power failure that caused most of the Northeastern United States and neighboring parts of Canada to lose power.
13
Dan Zapotok, industrial vegetation management portfolio manager, DuPont Crop Protection
One overgrown tree can interfere with electrical transmission and bring thousands of businesses and homes to a standstill.
18
Bradley Williams
Hurricane Irene and Superstorm Sandy, almost a year apart, walloped the east coast of the United States like a one-two punch.
21
Jeff Grosshauser
Disasters of every kind prevail at movie theaters and on TV. Hollywood is skilled at portraying the chaos and life or death drama of disasters of both man-made and natural kinds.