Electric Energy Magazine is published 6 times a year by:
Jaguar Expo Inc.
CP 50514 Carrefour-Pelletier
Brossard, Quebec Canada J4X 2V7
Tel.: (888) 332-3749
Fax: (888) 243-4562
E-mail:
jaguar@jaguar-media.com
Electric Energy T&D Magazine serves the fields of electric utilities, investor owned, rural and other electric cooperatives, municipal electric utilities, independent power producers, electric contractors, wholesalers and distributors of electric utility equipment, manufacturers, major power consuming industries, consulting engineers, state and federal regulatory agencies and commissions, industry associations, communication companies, oil & gas companies, universities and libraries.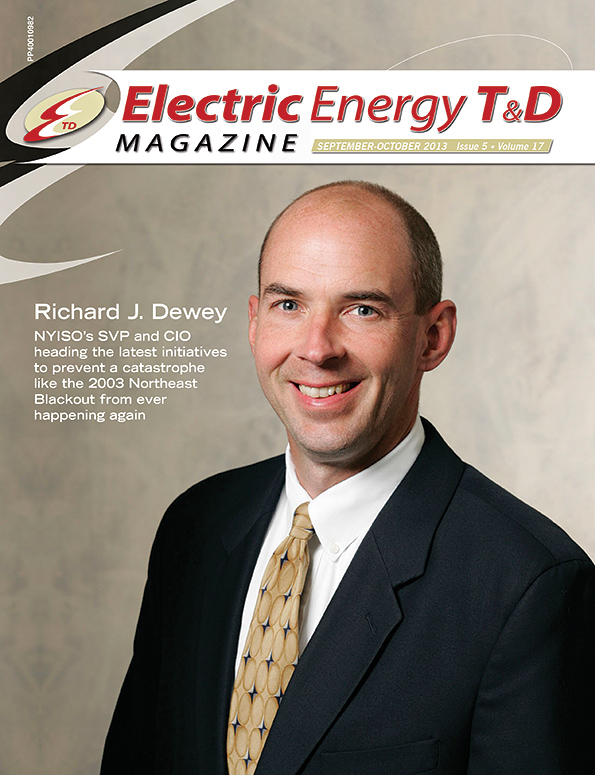 (5MB)
4
Terry Wildman, Editor-in-Chief
I'm neither a physicist or a mathematician. I do possess, however, an insatiable curiosity. Ideas surrounding energy in all its forms are a constant source of discovery and fulfilment to me.
11
Rich Dewey, Senior VP and CIO, NYISO
We are speaking with Richard Dewey, Senior Vice President and Chief Information Officer of the New York Independent System Operator (NYISO).
14
James Chan, Vice President, Marketing
Whether you're designing a new network operation center or upgrading an existing control room, it's important to evaluate technology based on environmental impact, and maximize capital expenditures while minimizing cost-of-ownership.
16
Don Parker, P.E. and Trey Beasley, P.E., MBA
To meet regulatory, business and customer satisfaction demands, utilities are seeking more effective technologies to reduce peak loads to improve reliability and to effectively make the right operating and maintenance investments.
20
Joseph O. Wambaugh, Senior Vice President
Billions have been invested, and will continue to be invested, in the implementation of advanced metering infrastructure (AMI) at electric, gas and water utilities.
23
Tom Wilson
You hear about it every day: the grid is evolving further and faster with each passing service hour.
26
Joby Wieser, CTEC and Bryan Seal, Itron
Central Texas Electric Cooperative (CTEC) owns and operates electric distribution services in 11 counties in central Texas, around the cities of Fredericksburg, Mason, and Llano.
29
Bernadette Corpuz and John Vellone, Borden Ladner Gervais LLP
On June 12, 2013, Ontario's Minister of Energy issued a directive to the Ontario Power Authority ("OPA") pursuant to the Electricity Act, 1998 to amend the Feed-in-Tariff ("FIT") program.
32
William T. (Tim) Shaw, PhD, CISSP / CIEH / CPT
Have you heard the one about the Chinese hackers that attacked the honeypot that was designed to look like a municipal water utility control system and got caught in the act?
34
Hormazd Romer, Senior Director of Product Marketing
Companies in the energy industry have a wide range of regulatory laws that they must comply with, from critical infrastructure issues to how raw materials are bid upon in the public sector.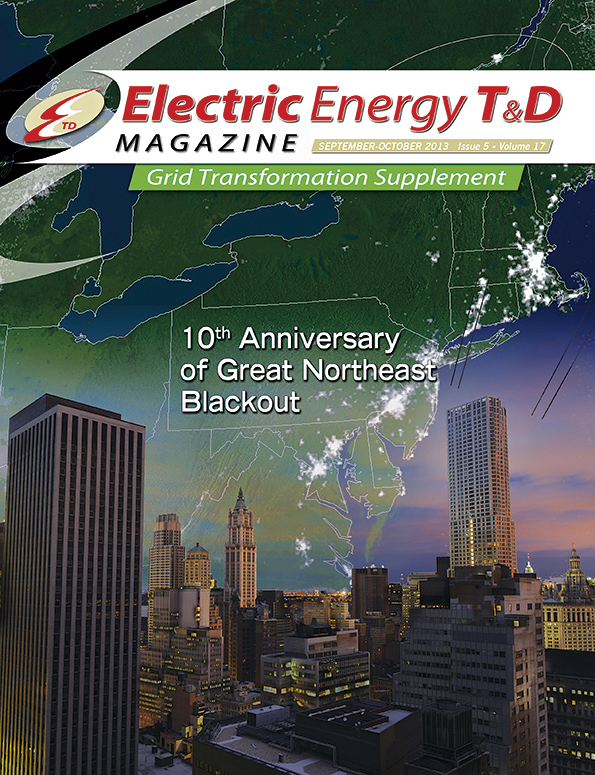 (1MB)
3
Navin Bhatt and Paul Myrda Electric Power Research Institute
On August 14, 2003, approximately 50 million people throughout the Midwest and Northeast United States and Ontario, Canada, experienced an electric power blackout.
6
Michael Brander and Joshua Haims
From advanced smart meters to mobile networks, the electric utility industry is undergoing a massive technological transformation.
10
Jamison Shaver, Senior Product Manager
By recent estimates, the energy industry is expected to spend more than $51.1 billion improving the U.S. electric infrastructure by 2023.
12
Steve Ehrlich, Senior Vice President of Marketing and Product Management, Space-Time Insight
The grid operations team at Sacramento Municipal Utility District (SMUD) has a tremendous amount of knowledge about the company's infrastructure.