Electric Energy Magazine is published 6 times a year by:
Jaguar Expo Inc.
CP 50514 Carrefour-Pelletier
Brossard, Quebec Canada J4X 2V7
Tel.: (888) 332-3749
Fax: (888) 243-4562
E-mail:
jaguar@jaguar-media.com
Electric Energy T&D Magazine serves the fields of electric utilities, investor owned, rural and other electric cooperatives, municipal electric utilities, independent power producers, electric contractors, wholesalers and distributors of electric utility equipment, manufacturers, major power consuming industries, consulting engineers, state and federal regulatory agencies and commissions, industry associations, communication companies, oil & gas companies, universities and libraries.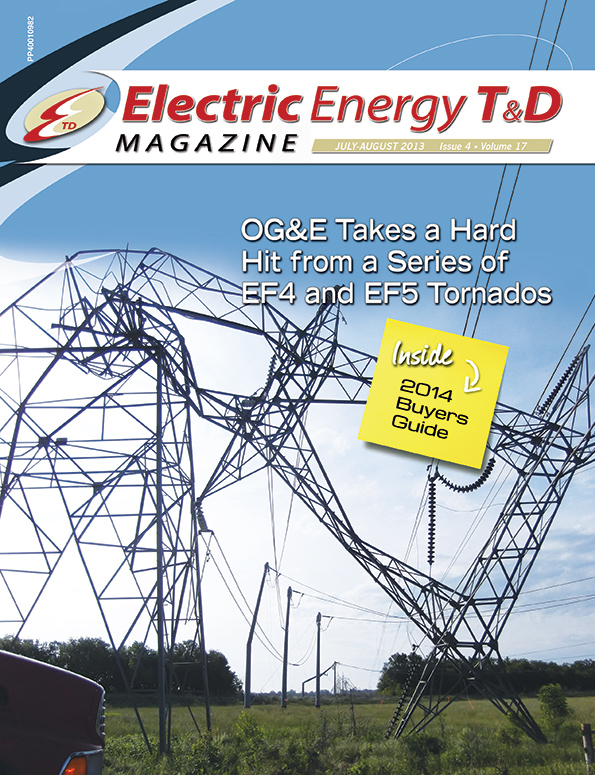 (7MB)
4
Terry Wildman, Editor-in-Chief
A little over a month ago, American Secretary of the Interior Sally Jewell and Bureau of Ocean Energy Management (BOEM) Director Tommy P. Beaudreau announced that BOEM, on July 31, will hold the first-ever competitive lease sale for the development of commercial wind energy.
16
John D. McDonald
In the Grid Transformation Forum feature of January/February 2013 Electric Energy T&D we interviewed John D. McDonald, director, technical strategy and policy development for GE's Digital Energy business.
22
Mahesh Saptharishi
Jim Rogers, the CEO of Duke Energy calls the grid 'The Great Enabler' of our time because of everything it brings to life – in our daily personal lives as well as our businesses.
28
Dave Bryant, Director Technology, CTC Global
On Monday afternoon, May 20, 2013, an EF5 tornado, with peak winds estimated at 210 miles per hour (340 km/h), struck Moore, Oklahoma and adjacent areas, killing 24 people and injuring 377 others.
33
James Hannigan PE, PMP, SAIC
Electric and magnetic fields are important factors to be considered when designing transmission lines. They occur in nature and have become much more prevalent in our everyday lives through man-made sources such as electric power.
37
Paul Richardson
An innovative aerial survey utilising LiDAR technology and PLS-CADD™ software has been successfully deployed in the Indian electricity transmission sector for the optimisation of 1,900 circuit kilometres of 765 kV overhead lines (OHLs) that run across mountains, plains and urbanised areas.
40
Bernadette Corpuz, Borden Ladner Gervais LLP
As expected, the first procurement window launched under Ontario's Feed-in Tariff Program ("FIT") 2.0 opened on December 14, 2012 and closed on January 18, 2013.
42
William T. (Tim) Shaw, PhD, CISSP / CIEH / CPT
In the past few months I have had the opportunity to meet with several different plant managers from different industry segments, ranging from refining and petrochemical to nuclear power generation, and in almost every case they were still struggling with how to go about establishing acceptable cyber security for their facilities.
45
Stuart Solsky and Stephen Matthews, Baker Botts