Electric Energy Magazine is published 6 times a year by:
Jaguar Media Inc.
834 Montée Masson
Terrebonne, Quebec Canada J6W 2C6
Tel.: (888) 332-3749
Fax: (888) 243-4562
E-mail:
jaguar@jaguar-media.com
Web:
www.electricenergyonline.com
Electric Energy T&D Magazine serves the fields of electric utilities, investor owned, rural and other electric cooperatives, municipal electric utilities, independent power producers, electric contractors, wholesalers and distributors of electric utility equipment, manufacturers, major power consuming industries, consulting engineers, state and federal regulatory agencies and commissions, industry associations, communication companies, oil & gas companies, universities and libraries.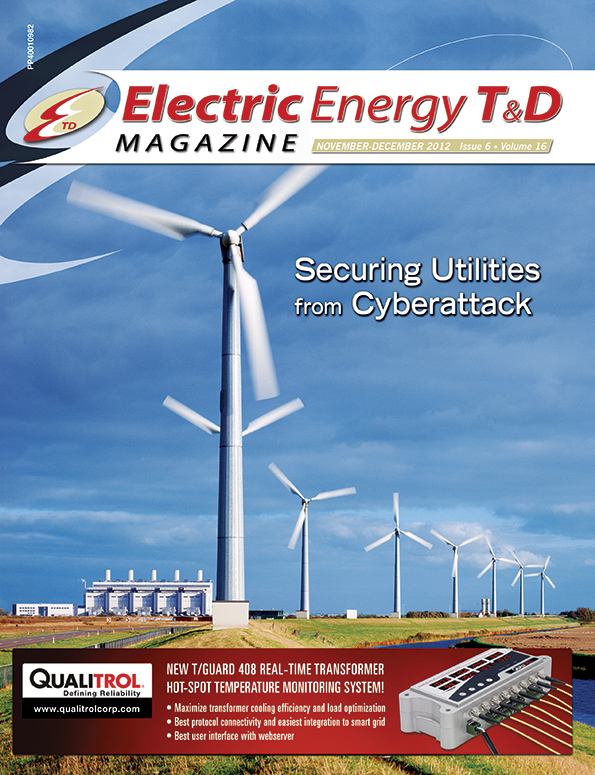 (3MB)
3
Terry Wildman, Senior Editor
One of the best things about writing the editorial for the mag is the journey of discovery I often find myself on during the research and preparation phases.
7
Norm Daigle, Executive Vice-President, Harris Utilities, SmartWorks
We are speaking with Norm Daigle, executive vice-president, Harris Utilities, SmartWorks
9
Bennett Fisher, Retroficiency
Commercial energy efficiency is a growing area of focus as utilities seek ways to meet and exceed new efficiency targets, manage demand without increasing capacity and deliver added value to customers.
11
Terry Wildman, Editor-in-Chief interviews; Mark Cerasuolo, OutBack Power Technologies Inc.; and J.K. Thomas, Malankara Plantations Ltd.
Early on July 30 of this year, some 370 million people were dropped in the dark when an inter-connect substation near Agra, home of the Taj Mahal, tripped causing the automatic shutdown of all power plants in the Northern region.
14
Will Williams and Martin Jones, Black & Veatch; and Scott Anderson, Salt River Project
The current financial climate presents utility managers with a key challenge: the delivery of levels of service to customers at the most efficient balance of cost and risk.
18
Eric Leiserson, Fiserv
Over the course of the last decade, online electronic bill payment has found favor with many consumers, becoming a mainstream service in many segments, including the utilities industry.
20
Jon Brock, Desert Sky Group LLC; and Dr. Russell Lefevre, IEEE Fellow
Getting Ready for EV Evolution The previous session ended with Dr. Lefevre outlining the technical challenges that have to be addressed to successfully provide and store power for EVs once the adoption is underway.
24
Adam Chamberlain, Borden Ladner Gervais LLP
This article is another in the series looking at the all-important Feed-in-Tariff (FIT) and its ramifications, from the legal standpoint that will impact energy producers and consumers well into this century.
26
William T. (Tim) Shaw, PhD, CISSP / CIEH / CPT
There was a television program in recent years that involved taking a group of people and firing questions at them round-robin until one person in the group was designated as "the weakest link" (and called that name by a shrill British woman who seemed to enjoy doing so).
28
Eric Byres, Tofino Security at Belden Inc.