Electric Energy Magazine is published 6 times a year by:
Jaguar Expo Inc.
CP 50514 Carrefour-Pelletier
Brossard, Quebec Canada J4X 2V7
Tel.: (888) 332-3749
Fax: (888) 243-4562
E-mail:
jaguar@jaguar-media.com
Electric Energy T&D Magazine serves the fields of electric utilities, investor owned, rural and other electric cooperatives, municipal electric utilities, independent power producers, electric contractors, wholesalers and distributors of electric utility equipment, manufacturers, major power consuming industries, consulting engineers, state and federal regulatory agencies and commissions, industry associations, communication companies, oil & gas companies, universities and libraries.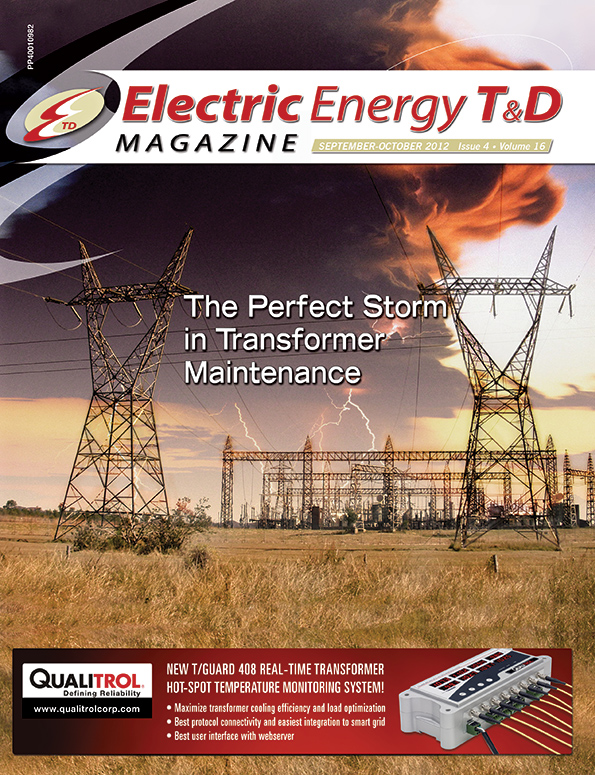 (4MB)
4
Terry Wildman, Senior Editor
I am now on my second issue of EET&D. I want to reach out to all of our readers with my take on the value of a publication like ours.
8
EET&D speaks with Rodger Smith, senior vice president and general manager, Oracle Utilities
11
Louis Szablya, VP of Marketing and Product Management at Energate
A recent report by The Edison Foundation's Institute for Electric Efficiency estimated that about 27 million smart meters had been installed in the U.S.
14
Bob Rasor, SD Myers, Inc.
Transformer management, testing and the resulting diagnoses and recommendations are said by some to be at a crossroads. Today's many adverse factors, if not corrected, are forming 'a perfect storm.'
18
Jeff Johnson, Chief Long Range Forecaster and Chief Science Officer, Telvent DTN with Kyle Stuckly, Business Continuity Consultant, Oncor
In Texas, the question isn't if severe weather will hit, but when – so utility companies need to be on the alert for the formation of severe weather and preparing for potential outages.
21
Andrew Phillips, Electric Power Research Institute
Robotic technologies are an innovative way to assist utilities in their asset management programs. The Electric Power Research Institute (EPRI) is developing robots that will inspect transmission lines and insulators for overhead transmission lines.
25
Jim Krachenfels, Marketing Programs Manager, Belden Inc.
Smart grid creates a whole new level of expectation for the power utilities.
28
Bernadette Corpuz, Borden Ladner Gervais LLP
Approximately one year ago, the Ontario Government launched its review of its Feed-in Tariff Program ("FIT Program"). The Government released the results of its review ("FIT Review") a few months later, March of this year.
31
Mike Baldi, Honeywell Process Solutions
In an age where ubiquitous flash drives can become precision-guided munitions and a serious security breach is a single, misguided decision away, the concept of 'defense-in-depth' – employing multiple layers of both physical and cyber security measures – has become a prerequisite for maintaining operations.
34
Jason Cigarran, Vice President, Marketing, Comverge
As the industry continues to debate just how to make the smart grid a reality, dynamic pricing programs are receiving increased interest from state commissions and utilities as an important piece to the puzzle