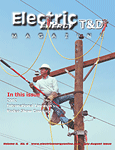 (0MB)
10
Huck DeVenzio, Arch Wood Protection
The recently announced move of treated wood away from CCA to newer preservatives applies only to certain applications – and utility poles are not one of them..
14
Dale Friesen, P.Eng. Meridium Power Inc.
Maintaining a reliable supply of electricity is an absolute requirement for production of the goods and services that fuel our economy, yet it is often one of the most difficult problems faced by facility managers.
20
Janine King, National Accounts Manager of the Cooperative Utility Industry - Document Imaging Solutions
Threat of deregulation, increased energy costs, and substantial growth in the rural communities are forcing Electric Cooperatives to become more efficient and effective in their daily operations.
23
Judie White, General Manager A.F. White Ltd
Perhaps, the easiest way to explain the reasoning for proper transformer oil maintenance is to compare a transformer to a car.
25
Joe Caywood, Marketing Manager, Terex Telelect
With the challenging demands in the marketplace, increased understanding of ownership and operating cost as well as utilization are important to help make critical decisions with capital equipment.
40
Ron Sznaider, Meteorlogix
Following its discovery and refinement during World War II, weather radar has undergone numerous technological changes.
45
W. Scott McNair, Sales Manager, Wood Preservatives, Merichem Chemicals & Refinery, Services LLC

And Pete Loechner, Senior Standards Engineer, Retired, Pacific Gas and Electric
Although the wood pole has been the utility structure of choice for many decades, there are increasing responsibilities that demand attention from the specifying engineer.
48
Mark Dixon, Mgr-Market & Project, Development for Control Products & Systems for Beckwith Electric Co.
In today's electric utility industry, optimizing important distribution Volt/VAr assets requires integration, automation, and savvy planning.
50
Lee Margaret Ayers OSIsoft & John Baranowski PECO Energy
After a 230 - 35 kV substation transformer failed at PECO Energy Company (PECO), a subsidiary of Exelon Corporation, engineers evaluated all the available data for the transformer…