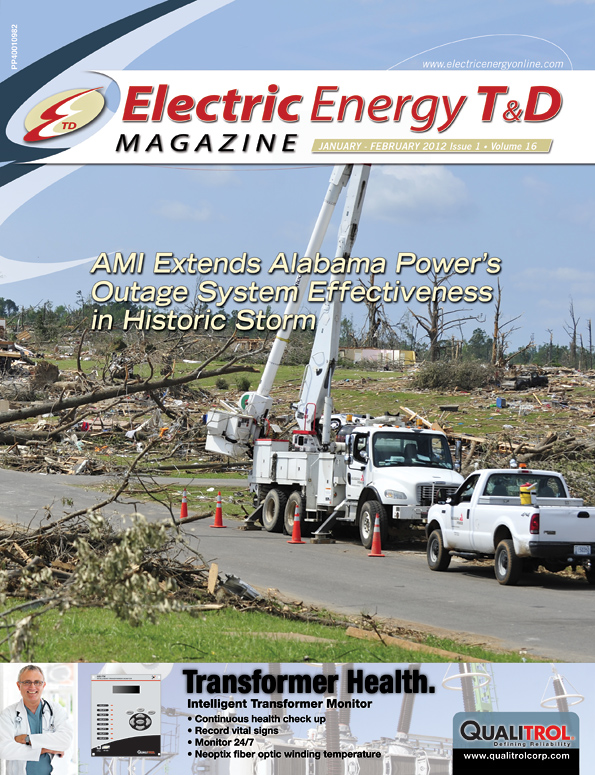 (6MB)
4
Michael A. Marullo, Editor in Chief
About a hundred years ago (well, in 1985, actually), a reincarnation of the legendary 1960s rock group, Jefferson Airplane – by then known as Jefferson Starship – released an album titled, Knee-deep in the Hoopla.
12
Derl Rhoades, Network Operations & Translation, Team Leader, Alabama Power Company
Alabama Power Company had been preparing for severe weather to hit the state long before the morning of April 27, 2011.
15
Robert Shively, CEO, Metadigm Services; Reginald Murchison, Manager of Metering Services, Alabama Power
Alabama Power Company – a Southern Company subsidiary – recently worked with Metadigm Services to design quality best practices and engineered solutions from pre- to post-AMI deployment.
18
Wanda Reder, Past President, IEEE Power & Energy Society and Vice President, S&C Electric Company
As another year is starting, the Smart Grid continues to open up new opportunities for innovation in what has historically been a very traditional and relatively slow-moving industry.
23
Pritesh Gandhi, CEO of Ambient Devices and Ahmad Faruqui, Principal at The Brattle Group
It's a well-known fact in today's society, information equals power. Without information, the ability to make educated decisions about what to do and when to do it is hindered.
26
Mike Harris, Chief Executive Officer Zonoff, Inc.
For utilities, the electric meter is the gateway to the customer, both figuratively and literally.
30
An Interview with Dr. Russell Lefevre, IEEE Fellow; With Jon Brock, EnVision 2030 Contributing Editor
This is the first installment of our 3-part interview with Dr. Russell Lefevre, a widely recognized IEEE Smart Grid technical expert and chair of the IEEE Steering Committee on Electric Vehicles.
34
Charles H. Drinnan, President, eWAM Associates & Senior Market Analyst, InfoNetrix LLC
As the scope of Smart Grid evolves, some are wondering what the role of GIS will be. GIS will define and maintain more accurate, complete network models and be an integral part of new Outage Management (OMS) and Advanced Distribution Management Systems (ADMS).
38
Bernadette Corpuz, Borden Ladner Gervais LLP
This article reviews such deliberations as they are currently unfolding in Ontario where the ubiquitous Green Energy and Green Economy Act ("Green Energy Act") of 2009 mandated Smart Grid investments by distributors and transmitters.
40
William T. (Tim) Shaw, PhD, CISSP / CIEH / CPT
In previous columns, we've discussed various security technologies and strategies for protecting industrial automation systems against cyber attack.
43
Peter Kelly-Detwiler, Senior VP, Demand Response; Constellation Energy
Transparency is the watchword today, and the utility sector is no stranger to the changing ways of today's increasingly wired world – in a good way.