Publisher
Steven Desrochers
Editor in Chief
Mike Marullo
Contributing Editors
William T. (Tim) Shaw, PhD, CISSP
Gregory K. LawrencePartner; Cadwalader, Wickersham & Taft LLP
Account Executive
Eva Nemeth
John Baker
Art Designer
Anick Langlois
Internet Programmers
Johanne Labonté
Sébastien Knap
Electric Energy Magazine is published 6 times a year by:
Jaguar Expo Inc.
CP 50514 Carrefour-Pelletier
Brossard, Quebec Canada J4X 2V7
Tel.: (888) 332-3749
Fax: (888) 243-4562
E-mail:
jaguar@jaguar-media.com
Electric Energy T&D Magazine serves the fields of electric utilities, investor owned, rural and other electric cooperatives, municipal electric utilities, independent power producers, electric contractors, wholesalers and distributors of electric utility equipment, manufacturers, major power consuming industries, consulting engineers, state and federal regulatory agencies and commissions, industry associations, communication companies, oil & gas companies, universities and libraries.
Cover:Istock Photo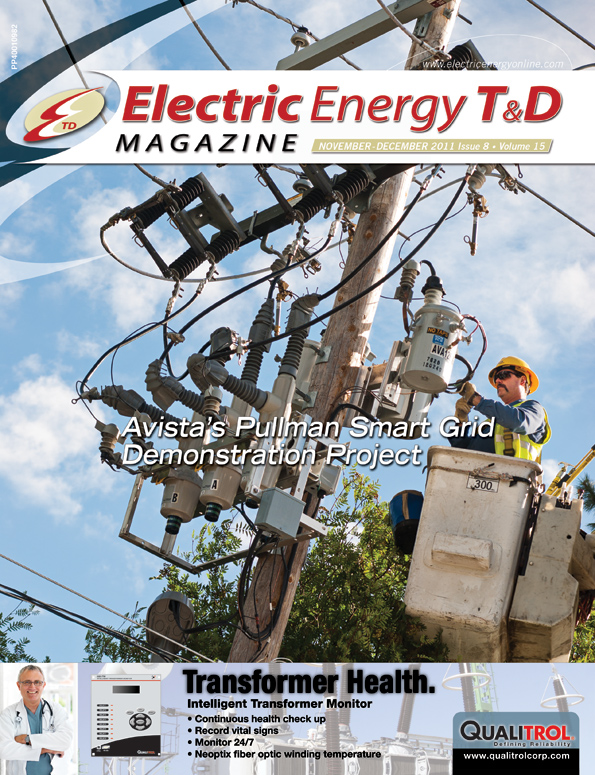 (5MB)
4
Michael A. Marullo, Editor in Chief
A few weeks ago, just before returning from our Fall Smart Grid RoadShow Conference in Corpus Christi, Texas, a somewhat disturbing bit of news hit my Inbox.
13
Heather Rosentrater, Director of Asset Management and Process Improvement, Avista and Narasimha Chari, Co-Founder & Chief Technology Officer, Tropos Networks
With the implementation of its Pullman, Wash., Smart Grid Demonstration Project, Avista stands at the forefront of comprehensive smart grid deployment.
18
Ben Boyd, Vice President Regulatory/Policy and Doug Houseman, Vice President Technical Innovation
Our final GreenWays interview for 2011 is with two key executives from EnerNex, a dynamic and increasingly influential company nestled in the Smoky Mountains of Tennessee that has risen from a modest engineering services firm to national prominence in a relatively short period since its founding in 2003.
22
Rodger Smith, Senior Vice President and General Manager, Oracle Tax & Utilities Global Business Unit
By focusing on individual electricity issues and addressing them with Advanced Distribution Management, utilities can help their communities advance incrementally toward grid modernization.
27
Robert McFetridge, Strategic Account Manager, GarrettCom, Inc.
Ethernet and the IP protocol bring tremendous advantages to power utilities – and in particular substations – through international standardization.
31
Scott Howard, Representative; Trusted Network Connect (TNC) Work Group, Trusted Computing Group (TCG)
Supervisory Control and Data Acquisition (SCADA) systems have undergone a technological revolution over the past 20 years that has been nothing short of mind-boggling. Inexpensive, high-performance network connectivity combined with innovative software solutions on PC platforms have driven huge improvements in service quality as well as cost reductions.
35
William T. (Tim) Shaw, PhD, CISSP
Welcome to this installment of Security Sessions, a regular feature focused on security-related issues, policies and procedures.
38
Darin Sloan, Portfolio Manager, DuPont Land Management
Utilities face a difficult task when it comes to balancing the public's desire for uninterrupted power and landowners' tolerance for what it takes to deliver that service.