Publisher
Steven Desrochers
Editor in Chief
Mike Marullo
Contributing Editors
William T. (Tim) Shaw, PhD, CISSP
Gregory K. LawrencePartner; Cadwalader, Wickersham & Taft LLP
Advertising Sales Manager
Jimmy Desjardins
Account Executive
Eva Nemeth
Art Designer
Anick Langlois
Internet Programmers
Johanne Labonté
Sébastien Knap
Electric Energy Magazine is published 6 times a year by:
Jaguar Media Inc.
834 Montée Masson
Terrebonne, Quebec Canada J6W 2C6
Tel.: (888) 332-3749
Fax: (888) 243-4562
E-mail:
jaguar@jaguar-media.com
Web:
www.electricenergyonline.com
Electric Energy T&D Magazine serves the fields of electric utilities, investor owned, rural and other electric cooperatives, municipal electric utilities, independent power producers, electric contractors, wholesalers and distributors of electric utility equipment, manufacturers, major power consuming industries, consulting engineers, state and federal regulatory agencies and commissions, industry associations, communication companies, oil & gas companies, universities and libraries.
«8» Industry News
«43» Advertisers Index
Cover:Istock Photo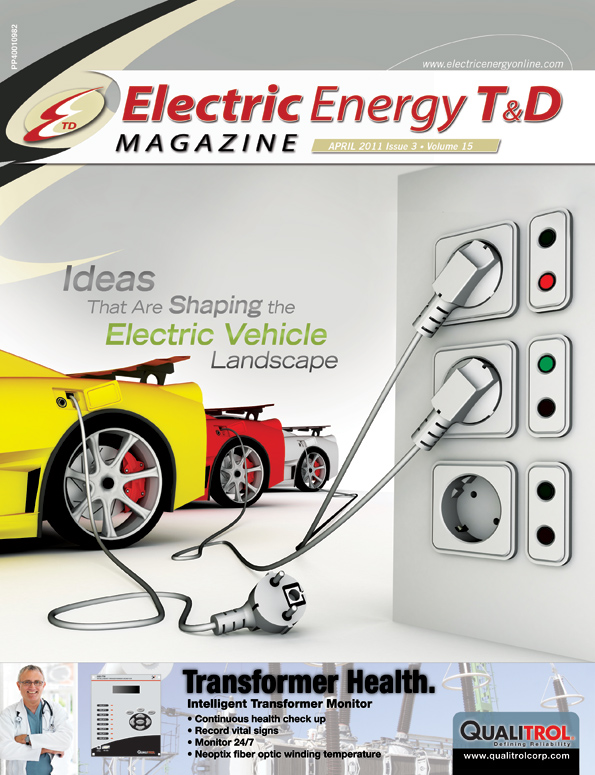 (4MB)
4
Michael A. Marullo, Editor in Chief
I saw a really cute cartoon in the newspaper the other day. It showed two kids in the back seat of a car with their parents in the front, obviously taking the boys on a trip of some sort. One little boy was asking the quintessential question: "Are we there yet?"
14
Malcolm Walter, Chief Operating Officer & Senior Vice President; Bhupinder Singh, Senior Vice President, Bentley Software
On any given day, Bentley colleagues and software users around the world are focused on infrastructure and the lifecycle of infrastructure. So what's Bentley all about these days?
18
Michael Garvin, President, RENAIS LLC and Joe Sulentic, Associate Professor, University of Iowa
Americans bought more than 16 million vehicles a year before the recent recession plunged sales to a pace of fewer than 10 million. But a continued rise in oil prices could send demand for electric vehicles (EVs) climbing much faster than expected.
22
C. Brandon Fletcher, CFA; Co-Founder & CEO, Green Analytics, Inc., Bentonville, Arkansas
As politicians, companies, and citizens are pushing for a "greener" environment, meaning one that is environmentally sustainable and emits fewer greenhouse gases, numerous studies have been conducted to determine the best way to go "green."
25
Alan Saunders, Senior Industry Manager – Utilities, Autodesk Inc.
Many utilities are in the midst of planning and deploying smart grid programs and related technologies. In principle, the Smart Grid is a simple upgrade of 20th century power grids, which generally "broadcast" power from a few central power generators to a large number of users.
29
Leo McCloskey, Vice President, Airbiquity
It is an exciting and unprecedented time for the energy and utilities industry. The rapid adoption of new technologies, particularly communications-based technologies, has provided a platform for the industry to meet multiple demands ranging from energy efficiency to improved reliability.
32
Pietro Parravicini, President/CEO, Anoto, Inc.
Electric utilities are facing increasing pressure to provide superior quality and reliable service to their customers while also seeking higher efficiency in their work forces and processes.
35
Alan Mantooth, IEEE Fellow
Thanks in large part to innovative technologies, environmental awareness and government incentives, renewable energy generation will contribute a significant portion of the total power consumed in the U.S. sometime in the next decade.
38
Gregory K. Lawrence, Partner, Cadwalader, Wickersham & Taft LLP
Given the current turmoil in the Middle East and Japan, commodity market volatility, and remaining concerns regarding climate change, the conversation again has returned to renewable power development to diversify the United States generation fleet and create jobs.
41
Charles H. (Chuck) Drinnan, President & Principal Consultant, eWAM Associates