Publisher
Steven Desrochers
Editor in Chief
Mike Marullo
Contributing Editors
William T. (Tim) Shaw, PhD, CISSP
Gregory K. LawrencePartner; Cadwalader, Wickersham & Taft LLP
Advertising Sales Manager
Jimmy Desjardins
Art Designer
Anick Langlois
Internet Programmers
Johanne Labonté
Sébastien Knap
Electric Energy Magazine is published 6 times a year by:
Jaguar Media Inc.
834 Montée Masson
Terrebonne, Quebec Canada J6W 2C6
Tel.: (888) 332-3749
Fax: (888) 243-4562
E-mail:
jaguar@jaguar-media.com
Web:
www.electricenergyonline.com
Electric Energy T&D Magazine serves the fields of electric utilities, investor owned, rural and other electric cooperatives, municipal electric utilities, independent power producers, electric contractors, wholesalers and distributors of electric utility equipment, manufacturers, major power consuming industries, consulting engineers, state and federal regulatory agencies and commissions, industry associations, communication companies, oil & gas companies, universities and libraries.
«6» Industry News
«43» Advertisers Index
Cover:Istock Photo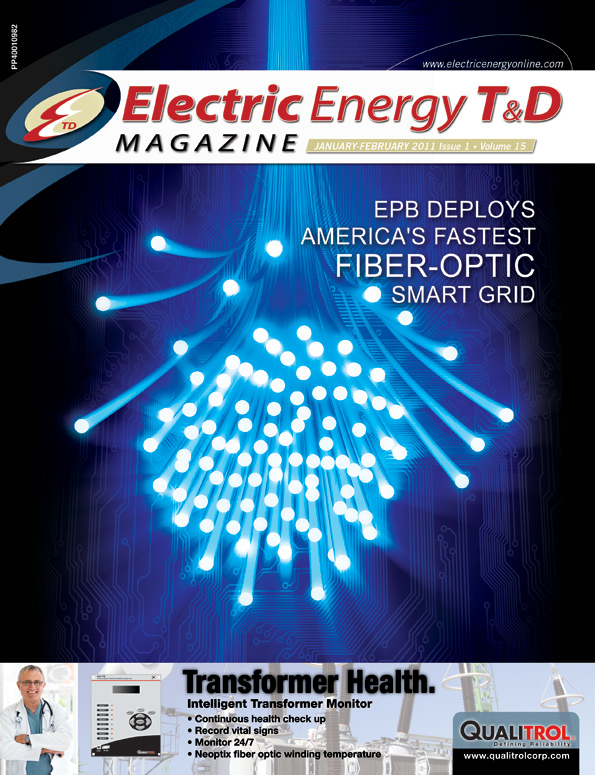 (6MB)
4
Michael A. Marullo, Editor in Chief
Sometime between Halloween and Christmas it occurred to me that, as an industry, we really need to move forward in this new year on a substantially different path than the one we've been on for the past several.
18
John Estey, President & Chief Executive Officer and Michael Edmonds Global Smart Grid Strategies Director
Welcome to the first installment of GreenWays! Starting with this issue, GreenWays replaces the Automation/IT Leadership Series, which ran in this slot from 2007-2010. But I should point out that the change is not really so much a replacement as it is an update to the original concept established by its predecessor.
22
By Harm Toren, Managing Director, Head of Operations Services Iberdrola Renewables
Wind energy is very abundant in many parts of the U.S. and does not need to be produced, so there will always be a constant supply. It is a form of solar energy that is pollution-free and renewable. This is likely the reason why wind energy is the fastest-growing source of energy worldwide.
26
Koustuv Ghoshal, Managing Partner, Inspirra Energy
As the dust settles in the aftermath of the financial sector collapse, and as the investment climate gradually shrugs off its state of hibernation, there is one aspect of the energy industry that has become crystal clear – the romanticism around the Renewable Energy market and the notion that it would somehow magically cure the world of all its environmental evils – has given way to the ground realities of a more prudent approach toward the development of sustainable sources for power generation.
29
Lee Baker, Smart Grid Consultant
While many utilities struggle with the question of whether or not to build a Smart Grid, for the Electric Power Board (EPB) in Chattanooga, Tennessee, it was never an issue. The big question for Chattanooga's municipal utility was how to make its investment ensure far greater advantages than simply automating meter readings.
32
Mark Osborn, Distributed Resources Manager, Portland General Electric with Bill Flerchinger, Schweitzer Engineering Laboratories, Inc.
Portland General Electric (PGE) is a progressive utility in Portland, Oregon, and its efforts to increase the use of distributed generation (DG) throughout their system put them in a smart grid leadership position.
36
Gregory K. Lawrence, Partner, McDermott Will & Emery LLP
During the last several years, the market share of demand response (DR) resources in the organized wholesale electricity markets has nearly doubled – from 17,146 megawatts to over 31,000 megawatts since 2006.
38
William T. (Tim) Shaw, PhD, CISSP
Welcome to the first installment of Security Sessions for 2011! Well, another year has passed and for many (most?) of us it has been an uneventful year filled with the same old same old.
40
Gary Ockwell, Chief Technology Officer, Efacec Advanced Control Systems
As the wave of AMI and smart meter deployments begins to crest, many utilities are poised to turn their attention to what is widely anticipated to be the next major focus area for Smart Grid projects – Distribution Automation.