Publisher
Steven Desrochers
Editor in Chief
Mike Marullo
Contributing Editors
William T. (Tim) Shaw, PhD, CISSP
Gregory K. LawrencePartner; Cadwalader, Wickersham & Taft LLP
Advertising Sales Manager
Jimmy Desjardins
Art Designer
Anick Langlois
Internet Programmers
Johanne Labonté
Sébastien Knap
Electric Energy Magazine is published 6 times a year by:
Jaguar Expo Inc.
CP 50514 Carrefour-Pelletier
Brossard, Quebec Canada J4X 2V7
Tel.: (888) 332-3749
Fax: (888) 243-4562
E-mail:
jaguar@jaguar-media.com
Electric Energy T&D Magazine serves the fields of electric utilities, investor owned, rural and other electric cooperatives, municipal electric utilities, independent power producers, electric contractors, wholesalers and distributors of electric utility equipment, manufacturers, major power consuming industries, consulting engineers, state and federal regulatory agencies and commissions, industry associations, communication companies, oil & gas companies, universities and libraries.
«40» Advertisers Index
This index is a guide to locate specific display advertisers throughout the magazine.
«6» Industry News
Cover:Istock Photo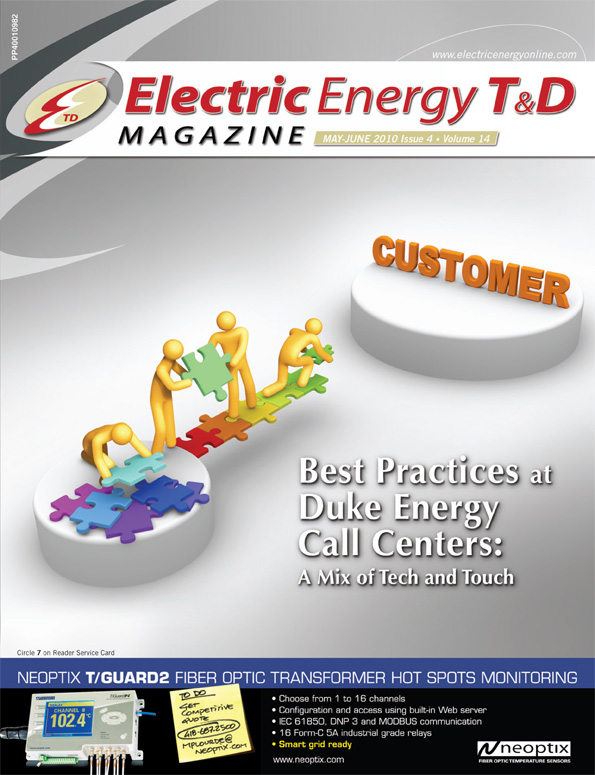 (5MB)
4
Michael A. Marullo, Editor in Chief
No, my spell checker hasn't gone haywire (or is it "haywire-less" now?). In this case, I'm just using play on words to bring your attention to something that I think is going to give that other Baby Boom a run for its money.
12
Glenn Tofil, Managing Director, England & Company
For most equipment vendors and service providers to the utility industry, 2009 was a year to forget, or at least to look beyond.
15
Stephan Scholl, SVP & General Manager and Guerry Waters, VP Industry Strategy
"The vision of a 'smart grid' comprises many different concepts – smart metering, demand response, energy efficiency, intelligent outage management and advanced distribution management, just to name a few.
18
Nathan Ota, Trilliant Inc.
According to a recent report from ON World, a research firm providing business intelligence on smart techno-logy markets, 100 million smart meters will be deployed in the next five years.
22
Dennis Gowan, Vice President of Call Center Operations, Duke Energy
Although a call center typically hums with technology, it is the humanity that makes it sing. Best practices in training, response and delivery, are therefore, as much about touch as they are about tech.
26
Chris Lewis, Cognera Corporation
As a consumer driven nation, retailers have long offered incentive based programs to impact behavior, and customers have been happy to comply. The most commonly recognizable scenario in our recent past is that of the cellular communications service providers.
29
George Jones, Manager of Transportation & Distribution Assets, Portland General Electric
Customer service and satisfaction have always been of paramount importance for utilities – particularly when those customers are waiting on a technician to connect or restore their service. In the past, utilities invested in larger fleets, more staff and contract crews in order to speed customer response times.
32
Eric Camulli, Vice President, Virtual Hold Technology
We sometimes forget that our customers' perceptions are our business' reality. When customers call your business and wait on hold for a few minutes, they perceive that you don't care enough about them to answer the call immediately. Some contact center professionals may disagree.
35
Mark Crisson, APPA, President & CEO
The American Public Power Association (APPA) is the service organization for the nation's more than 2,000 community-owned electric utilities that serve more than 45 million Americans. It was created in 1940 as a non-profit, non-partisan organization.
38
William T. (Tim) Shaw, PhD, CISSP
Welcome to Security Sessions, a regular feature focused on security-related issues, policies and technologies. In a previous column I touched lightly on the issue of managing information, and the need to establish information categorizations and respective policies and procedures.