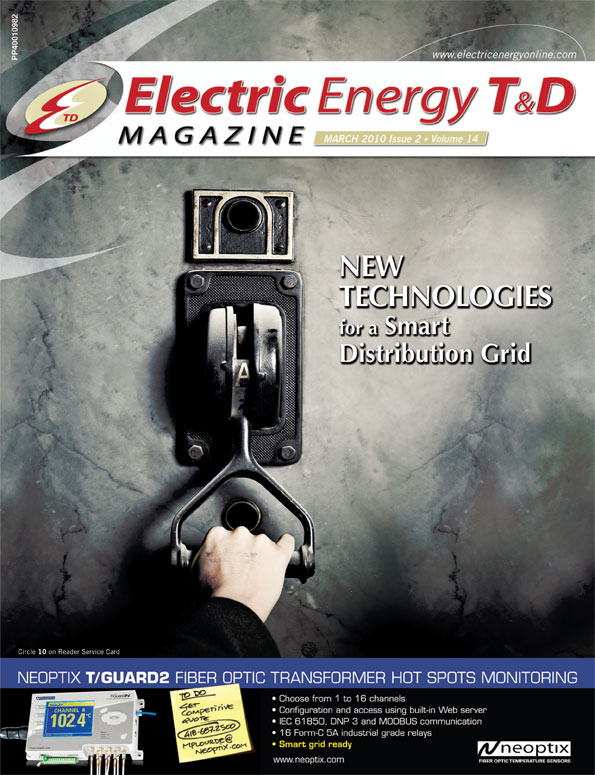 (7MB)
4
Michael A. Marullo, Editor in Chief
When the telephone industry needed to address the rising sense of fashion in post-WWII America in the late 1950s, their initial response was epitomized by Ma Bell's introduction of the Princess and Slimline telephones - available in alluring pink and other pastels for the very first time as an alternative to basic black.
14
Comverge was founded as a merger of utility technology groups from Scientific Atlanta, Lucent/Bell Labs, and PowerCom.
20
Chris McCarthy, Product Manager, Automation Systems Division, S&C Electric Company, Chicago, Illinois USA
The Smart Grid is about serving the customer better. It gives electricity con-sumers options to manage and optimize their energy usage.
25
Edward Cuoco, Director of Utilities & Energy Markets and Victor Milligan, Chief Strategy & Marketing Officer, Martin Dawes Analytics (Boston, Mass. USA)
It's no surprise that business pressures can increase the value of optimized trading for energy companies.
29
Meg Matt, AESP, President & Chief Executive Officer
Meg Matt and I have been acquainted professionally for many years, and during that time I've known her to be an insightful and informed market observer; a talented and creative writer; and an experienced industry professional.
31
Ravi Acharya, Associate Director of Marketing for B2B Products
Utility companies have depended on remote technicians to complete repair jobs, monitor usage and meet customer needs for longer than most other field service industries have existed.
35
Mary Miller, Marketing Director Z-Wave Alliance/Sigma Designs, Sunnyvale, Calif. USA and Ruth Littmann-Ashkenazi, Marketing CopperGate (A Subsidiary of Sigma Designs)
Every year, power outages cost American consumers $150 billion - approximately $500 for every man, woman, and child in the United States - according to the U.S. Department of Energy).
38
Ty Kiisel, @task Inc., Orem, Utah USA
The President asked, "How are you?" The janitor replied, "I'm doing great. I'm putting a man on the moon." The President left the restroom, got back on Air Force One, and flew back to Washington. There was NO problem at NASA.
42
Steve Smith, Director-Sales & Marketing, Honeywell Utility Solutions
The customer is always right. Or, in the case of the Hawaiian Electric Company (HECO), the more appropriate saying might be "the small commercial customer is always ripe" - as in ripe for energy savings opportunities.
47
Bernie Nelson, Director of Service Development - Utilities, Energy & Transportation
It appears 2010 will be a banner year for the "Smart Grid." In 2009, analyst firm IDC estimated $10.75 billion was spent on computer hardware improving the nation's electricity grid, up from $7.56 billion in 2008.
51
William T. (Tim) Shaw, PhD, CISSP
The usual mental and emotional response when someone brings up the subject of security, is that this issue is about nebulous "outsiders" attacking and trying to break-into our systems or facilities to cause harm.