Publisher
Steven Desrochers
Editor in Chief
Mike Marullo
Contributing Editors
William T. (Tim) Shaw, PhD, CISSP
Gregory K. LawrencePartner; Cadwalader, Wickersham & Taft LLP
Advertising Sales Manager
Jimmy Desjardins
Art Designer
Anick Langlois
Internet Programmers
Johanne Labonté
Sébastien Knap
Electric Energy Magazine is published 6 times a year by:
Jaguar Expo Inc.
CP 50514 Carrefour-Pelletier
Brossard, Quebec Canada J4X 2V7
Tel.: (888) 332-3749
Fax: (888) 243-4562
E-mail:
jaguar@jaguar-media.com
Electric Energy T&D Magazine serves the fields of electric utilities, investor owned, rural and other electric cooperatives, municipal electric utilities, independent power producers, electric contractors, wholesalers and distributors of electric utility equipment, manufacturers, major power consuming industries, consulting engineers, state and federal regulatory agencies and commissions, industry associations, communication companies, oil & gas companies, universities and libraries.
«8» Industry News
«48» Advertisers Index
This index is a guide to locate specific display advertisers throughout the magazine.
Cover:Istock Photo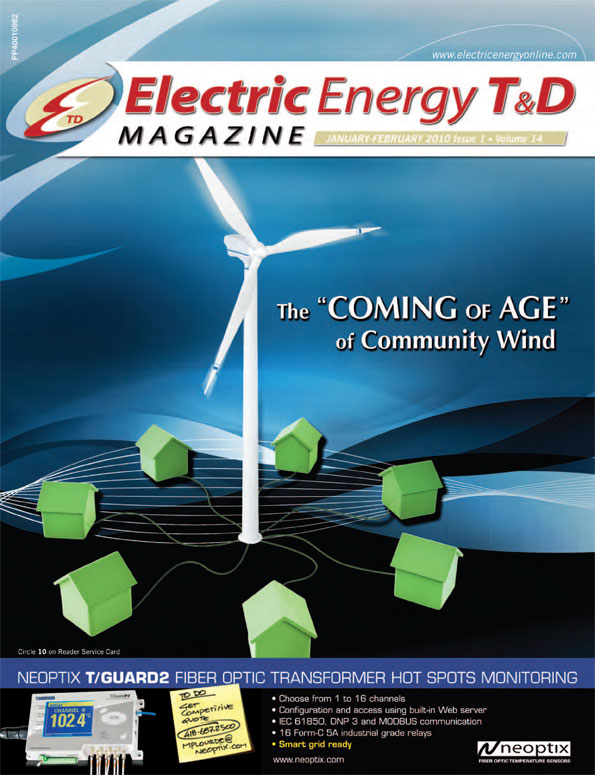 (4MB)
4
Michael A. Marullo, Editor in Chief
The beginning of a new year usually means a new start for lot of things, and if ever we needed a new start, this is probably a good time for it.
14
Jon T. Brock, President, Desert Sky Group, LLC
To set the stage for what follows, you'll need to travel back a decade with me to December of 1999.
17
Nokhum Markushevich, VP and Principal Consultant, Utility Consulting International (San Jose, California)
Advanced Applications in Distribution Automation are among the key components of the Smart Grid. Such applications enable the dynamic optimization of the operations of the Smart Distribution Grid to improve the reliability, power quality, and efficiency of the electric grid in an intensified cyber security environment.
22
Xiaoming Feng, ABB Corporate Research and William Peterson, ABB Power Systems Raleigh, North Carolina USA
Ever wondered how much electric energy the world consumes or how much energy is lost on its way from power plants to end user customers?
26
Steve Dalyai, President/CEO and Norm Lavoie, VP & General Manager
Founded in 1960 as Quindar Electronics Incorporated, QEI is credited with the introduction of the first transistorized voice frequency, audio tone telemetry products for electric power network monitoring and control.
31
Dwight Anderson, Schweitzer Engineering Laboratories, Inc.
Modern power utility systems deliver information to a wide range of users in near real time and automate several tasks that streamline operations and performance.
35
Andrew Horstman, Manager of Load Response Wabash Valley Power Association (Indianapolis, Indiana USA)
Wabash Valley Power Association (WVPA) is a Generation and Transmission (G&T) utility based in Indianapolis, Indiana providing wholesale electricity to distribution cooperatives in Indiana, Illinois, Michigan, and Missouri.
38
Jacob Susman, Founder & CEO, OwnEnergy Inc. (Brooklyn, NY USA)
Community Wind – the development of locally owned, utility-scale wind farm – is one of the fastest-growing segments in the U.S. wind industry.
41
Mary Jo Nye, Market Manager – Utilities Control Room Group by AVI-SPL, Tampa, Florida USA
In today's fast-paced electric utility, there are many forms of data available for analysis in a mission-critical control room. With the introduction of Smart Grid data such as Outage management, Geographic Information Systems, Advanced Metering Infrastructure and substation automation data, the quantity of information is expected to grow exponentially.
44
Gregory K. Lawrence, Partner; McDermott Will & Emery LLP (Contributing Editor)
The rush to secure interconnection rights for renewable energy projects is well underway, spurred by significant, and often time sensitive, governmental incentives for renewable energy.
46
William T. (Tim) Shaw, PhD, CISSP
Not too long ago, on one of the SCADA cyber security blogs that I routinely monitor, this interesting question was posed: What is the difference between "security" and "compliance"?