Publisher
Steven Desrochers
Editor in Chief
Mike Marullo
Advertising Sales Manager
Jimmy Desjardins
Circulation Manager
Janet Guay
Art Designer
Anick Langlois
Tarah McCormick
Internet Programmers
Johanne Labonté
Sébastien Knap
Electric Energy Magazine is published 6 times a year by:
Jaguar Expo Inc.
CP 50514 Carrefour-Pelletier
Brossard, Quebec Canada J4X 2V7
Tel.: (888) 332-3749
Fax: (888) 243-4562
E-mail:
jaguar@jaguar-media.com
Electric Energy T&D Magazine serves the fields of electric utilities, investor owned, rural and other electric cooperatives, municipal electric utilities, independent power producers, electric contractors, wholesalers and distributors of electric utility equipment, manufacturers, major power consuming industries, consulting engineers, state and federal regulatory agencies and commissions, industry associations, communication companies, oil & gas companies, universities and libraries.
CCAB/BPA WORLDWIDE MEMBERSHIP APPLIED FOR DECEMBER 2005
«6» Industry News
«44» Product Showcase
Read about new products available to the industry.
«44» Advertisers Index
This index is a guide to locate specific display advertisers throughout the magazine.
Cover:www.istockphoto.com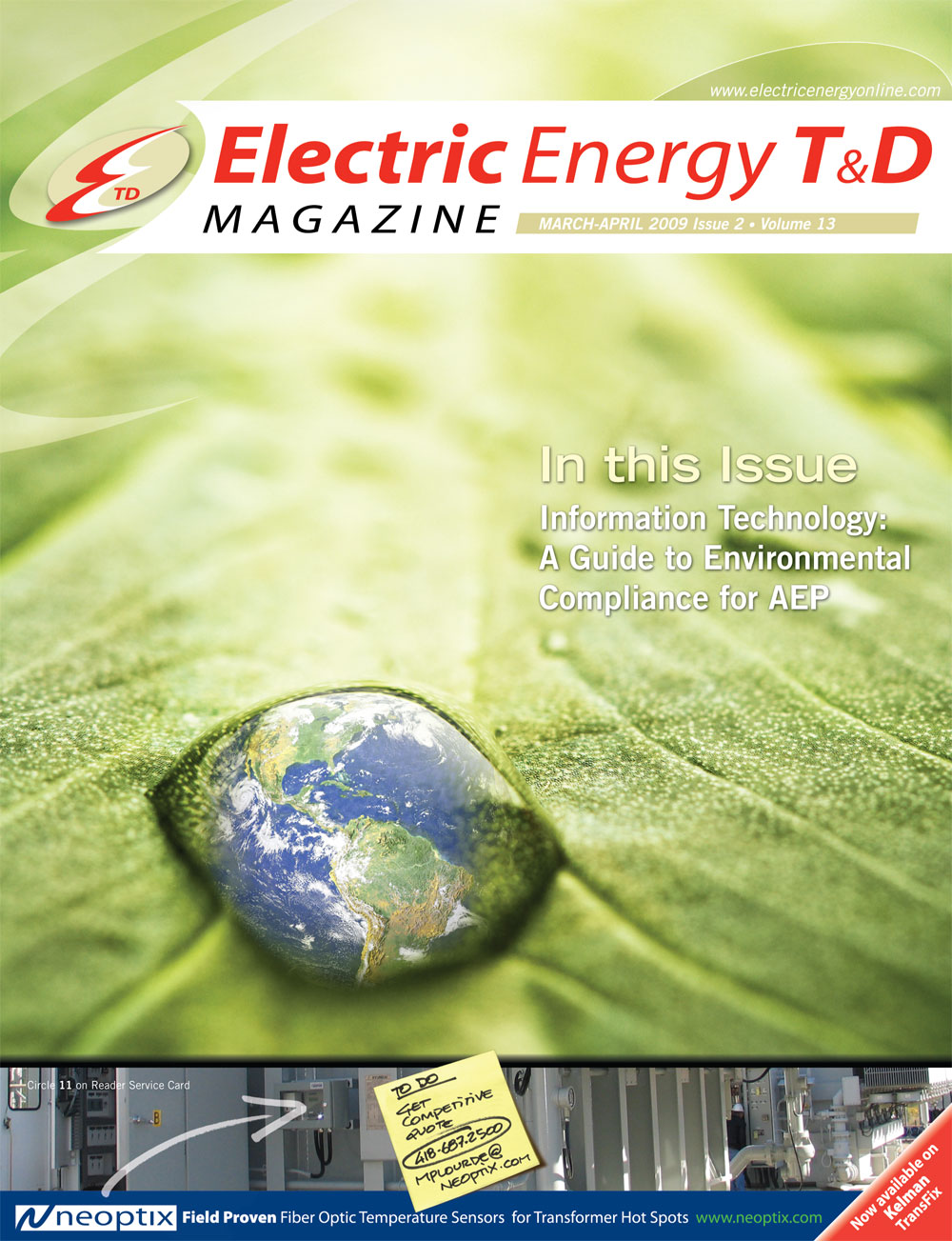 (1MB)
4
Michael A. Marullo, Editor in Chief
Welcome to the March/April 2009 issue of Electric Energy T&D! As you read this, already the second quarter of the year will be well under way, and we should be starting to see not only more details about how and when the looming economic challenges we are all facing will be addressed, but also how our industry will fare in that process.
14
Lawrence Goldenhersh, Enviance, Ray King, Microsoft, and John McManus, AEP
LightsOn™ focuses on companies and technologies that are making tangible contributions to improving reliability and sustainability – the things that are instrumental in keeping the lights on!
20
Jack Dangermond, President & CEO, ESRI and Bill Meehan, Director, ESRI Utility Solutions
"As America's leaders work to speed economic recovery, they need a system to properly manage and execute the Stimulus Plan; building a National GIS is key to success." These are the words of Jack Dangermond.
24
Gene Kindrachuk, Principal Consultant Enspiria Solutions
Electric utility companies are typically using aspects of GIS to support the various business processes involved in managing the electric system and providing service to customers, such as feeding outage management and power flow analysis systems.
28
Todd O'Hotto, IT Manager | Crow Wing Power
Crow Wing Power, an electric cooperative serving 36,000 members in rural north central Minnesota, recently reached the one-year mark in a project implementing a 700 MHz licensed wireless broadband communication network from Arcadian Networks.
31
Tim Taylor, Business Development Manager and Hormoz Kazemzadeh, Director of Marketing
Many electric distribution organizations are presently evaluating their approach to integrating three key operational systems – SCADA (Supervisory Control and Data Acquisition), OMS (Outage Management System) and DMS (Distribution Management System).
35
Keith Sturkie, VP of Information Technology and Lee Ayers, System Engineer Mid-Carolina Electric Cooperative
Power outages, whether large or small, can range from a mere inconvenience to a matter of life or death. Outages are almost always unplanned events, but electric utilities have a responsibility to their customers to provide reliable service, no matter the circumstance.
38
Dr. Moshe BenBassat, Chairman and CEO ClickSoftware
For once, Harry left his office early on Friday afternoon, with all plans for next week's work completed. In particular, he had coordinated all the work required for laying a new underground electricity distribution circuit: …