Publisher
Steven Desrochers
Editor in Chief
Mike Marullo
Advertising Sales Manager
Jimmy Desjardins
Circulation Manager
Janet Guay
Art Designer
Anick Langlois
Tarah McCormick
Internet Programmers
Johanne Labonté
Sébastien Knap
Electric Energy Magazine is published 6 times a year by:
Jaguar Expo Inc.
CP 50514 Carrefour-Pelletier
Brossard, Quebec Canada J4X 2V7
Tel.: (888) 332-3749
Fax: (888) 243-4562
E-mail:
jaguar@jaguar-media.com
Electric Energy T&D Magazine serves the fields of electric utilities, investor owned, rural and other electric cooperatives, municipal electric utilities, independent power producers, electric contractors, wholesalers and distributors of electric utility equipment, manufacturers, major power consuming industries, consulting engineers, state and federal regulatory agencies and commissions, industry associations, communication companies, oil & gas companies, universities and libraries.
CCAB/BPA WORLDWIDE MEMBERSHIP APPLIED FOR DECEMBER 2005
«6» Industry News
«44» Advertisers Index
This index is a guide to locate specific display advertisers throughout the magazine.
Cover:www.istockphoto.com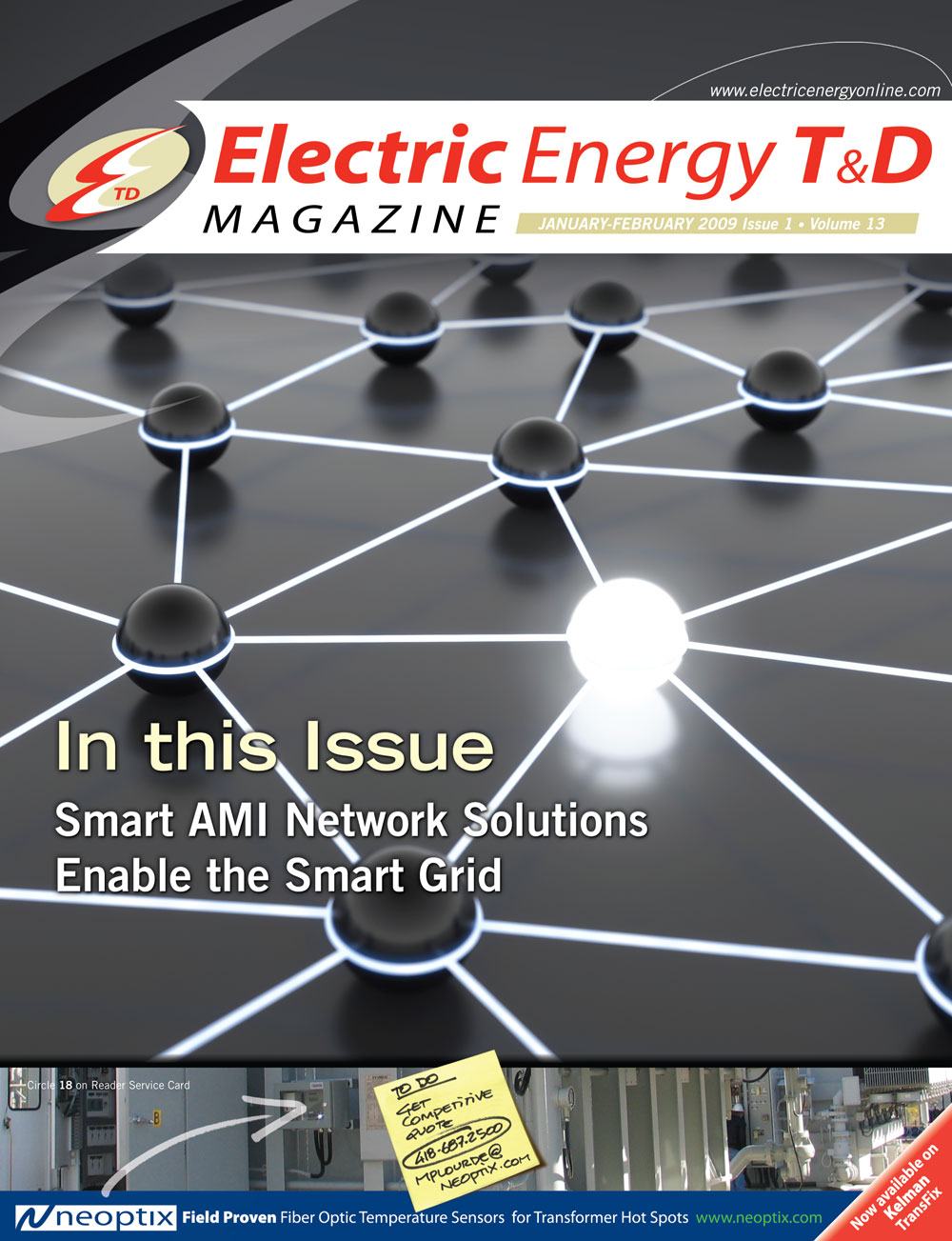 (2MB)
4
Michael A. Marullo, Editor in Chief
Welcome to the January/February 2009 issue of Electric Energy T&D magazine! And, with the beginning of this new year comes lots of new developments and both regular and special features for you, our valued readers.
14
Kevin T. Cornish, Director of Technical Support, Aclara
LightsOn™ focuses on companies and technologies that are making tangible contributions to improving reliability and sustainability – the things that are instrumental in keeping the lights on!
22
Maureen Coveney , Industry Director, Utilities; SAP America Inc. and Cathy Tough , National Director, Utilities; SAP Canada Inc.
As we enter into a new year, we also cross into new domain of sorts. For the first time since we began the Automation/IT Leadership Series in January 2007, both of the featured executives are women.
26
Srini Krishnamurthy, Vice President, Corporate Development, Eka Systems
On a continuous basis, utilities are challenged to meet the growth of peak energy demands, soaring costs, along with managing the operational risks of resource location combined with unprecedented environmental constraints.
30
Wanda Reder, IEEE-PES President
In this second installment of Executive Directions, readers are afforded the opportunity to gain valuable insights into one of the most influential professional associations shaping the future of the electric power industry.
33
Gary Roskos, Electric Utility Industry Open Systems International, Inc. and Bill Robertson, Senior Principal Engineer, Salt River Project
Over the past ten years, direct Phasor Measurement technology has progressed from research and development to commercial availability. The development of open standards for measurement and communication has provided a solid foundation for device manufacturers.
37
Electric Energy T&D Magazine Editorial Staff
The first part of this article appeared in our Nov/Dec 2008 issue with information and viewpoints expressed by members of the Special Security Panel convened at the Smart Grid RoadShow in Toronto, Canada. This second installment adds additional perspectives and commentary from representatives of four more companies involved in various facets of security products, systems and services.
41
Wesley K. Wright, Associate | Keller & Heckman LLP
Many electric utilities use private Federal Communications Commission (FCC) radio licenses to support daily operations, including Supervisory Control and Data Acquisition (SCADA) systems, Multiple Address Systems (MAS) and Automatic Meter Reading (AMR).