«8» Industry News
«56» Product Showcase
Read about new products available to the industry.
«56» Advertisers Index
This index is a guide to locate specific display advertisers throughout the magazine.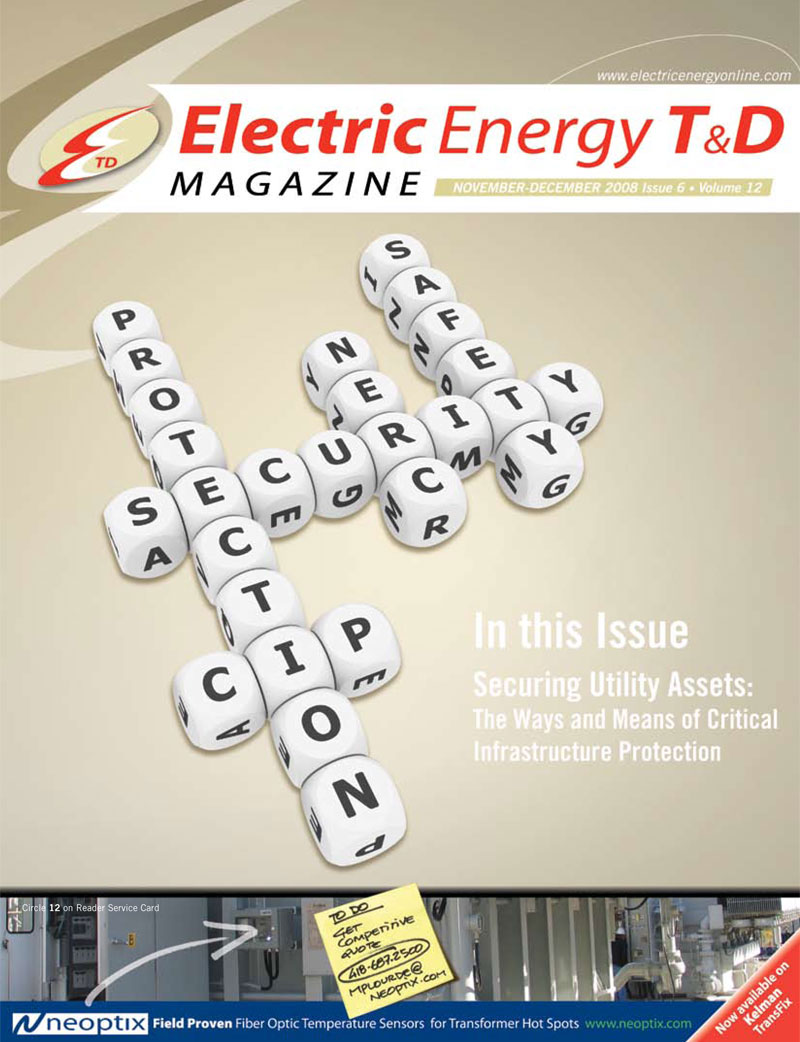 (3MB)
4
Michael A. Marullo, Contributing Editor
I'm not sure exactly what got me thinking about telecommuting a few weeks ago, but whatever it was quickly took my train of thought (note the subliminal 'train' message here) down a path that just kept getting more interesting …
16
Electric Energy T&D Magazine Editorial Staff
There has been much written about security recently – and will probably (rightfully) continue to be for along time to come.
24
Paul J. Yarka, Partner, Global T&D Asset Management Practice and Greg Bradley, Senior Manager T&D Asset Management Practice (Europe, Africa & Latin America)
In this issue, we are very pleased to address this vital services component with an interview with Accenture, one of the pre-eminent companies serving the electric energy marketplace that has skillfully and successfully …
28
Carl Potter, CSP, CMC and Deb Potter, PhD, CMC
One of the biggest mysteries in hazardous work is why well-trained people do not follow their company's safe work practices.
32
Bob Arnett, Vice President-Technology Systems Cobb Energy | Marietta, Georgia
Two short paragraphs sum up an incredible three years in the lives of dozens of people in Marietta, Georgia…
38
John Shaw, Executive VP GarrettCom, Inc.
A major objective of NERC CIP cyber security standards is to ensure that only specifically authorized people are able to electronically access control systems and Intelligent Electronic Devices (IEDs) that can affect …
41
Paul Karr, Vice President of Market Management Trilliant Incorporated
The energy grid wakeup call rang loudly after decades of growing energy use and a false confidence that the grid would somehow always find a way to serve its users.
45
Kevin McCarty, Co-Founder and Executive Vice President West Monroe Partners
The United States Department of Labor claims nearly half of the energy utilities workforce consists of Baby Boomers.
48
Jack McCall, Director of Business Development T&D Systems, American Superconductor
The need for modernization of the electric power grid is well documented. This effort will entail not only construction of new cross-country transmission lines, but also increasing the reliability and supporting the growth of more …
52
Akhlesh Kaushiva Vice President, Commercial IT Services and Anil Jayavarapu, Director-Business Process Management Avineon Inc.
Hurricane Katrina taught us many things, most importantly that the nation's emergency preparedness procedures needed a great deal of improvement.