Publisher
Jaguar Inc.
Editor
Gordon McCormick
Publication Manager
Steven Desrochers
Production Assistant
Danielle Bernier
Art Director
Linda Fleury
(MIS) Management Information System
Frédéric Allard
Production Department
Danielle Bernier
Advertising Sales Representatives
Joanne Mayoff
Electric Energy Magazine is published 6 times a year by:
Jaguar Expo Inc.
CP 50514 Carrefour-Pelletier
Brossard, Quebec Canada J4X 2V7
Tel.: (888) 332-3749
Fax: (888) 243-4562
E-mail:
jaguar@jaguar-media.com
Electric Energy T&D Magazine serves the fields of electric utilities, investor owned, rural and other electric cooperatives, municipal electric utilities, independent power producers, electric contractors, wholesalers and distributors of electric utility equipment, manufacturers, major power consuming industries, consulting engineers, state and federal regulatory agencies and commissions, industry associations, communication companies, oil & gas companies, universities and libraries.
«4» Industry News
«19» Power-Gen Show Coverage
TechAdvantage Expo is the only industry trade show with an electric cooperative focus. More than 235 exhibitors across 55,000 square feet of exposition.
«39» GITA Show Coverage
GITA's Annual Conference and Exhibition is the premier educational event for professionals involved in geospatial information technologies such as geographic information systems (GIS), automated mapping/facilities management (AM/FM), and related geospatial information technologies.
«45» GEOTec Event Show Coverage
The GEOTec Event, incorporating the GIS Conference, the Business Geographics Conference and Location in a Wireless World, takes place April 8-11 at the Metro Toronto Convention Centre in Toronto, Ontario, Canada.
«54» Metering Americas Show Coverage
Join the metering, billing and CRM/CIS industry at their annual gathering to explore the latest trends driving metering, billing and customer management.
«61» New Product Showcase
«64» Advertisers Index
Cover:Courtesy of Edwards & Associates Inc. Bristol, TN.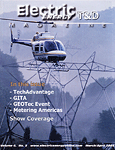 (0MB)
10
Douglas L. Laslo PE, GIS Solutions Division, Autodesk, Inc.
The electric utility industry continues to undergo significant change in all corners of the world..
16
Electric utilities are constantly looking for ways to improve and expand their distribution automation systems..
26
James E. Hargis, President, har*GIS LLC
Several utilities have implemented some type of mobile computing application..
36
William P. Risko, P.E., Sr. Applications Engineer, Silicon Power Corporation
A Medium Voltage (MV) Subcycle Static Transfer Switch is a solid state unit which is capable of switching large amounts of power...?
42
Tony Thomas, Stratos VSAT, Inc.
It's been said that communication is an enabling technology...
44
Peter Woodruff, Marketing Manager, Home Technology Systems, Inc.
Electric cooperatives have been providing medical monitoring services to senior customers for nearly a decade..
49
Denna Sandoval, Manager of Business Development, dataVoice International, Inc
After a lengthy discussion, a Midwestern utility decided an answering service was the best way to take calls from customers reporting outages..
52
Michael T. Steffes, ACES Power Marketing's COO Scott Thompson, Director of Natural Gas Trading
The impact of the Enron bankruptcy has been both predictable and at the same time somewhat surprising for the marketplace...
58
Larry Phillips, Power Industry Manager, OSIsoft and David Stockford, Marketing Manager, OSIsoft
Significant changes have been happening in the utility business..