Publisher
Jaguar Inc.
Editor
Gordon McCormick
Contributing Editor

Publication Manager
Steven Desrochers
Account Executive
Gordon Bennett
Sandra B.Herzberg
Joanne Mayoff
Mike Rivard
Production Assistant
Danielle Bernier
Janet Guay
Art Designer
Linda Fleury
(MIS) Management Information System
Frédéric Allard
Electric Energy Magazine is published 6 times a year by:
Jaguar Expo Inc.
CP 50514 Carrefour-Pelletier
Brossard, Quebec Canada J4X 2V7
Tel.: (888) 332-3749
Fax: (888) 243-4562
E-mail:
jaguar@jaguar-media.com
Electric Energy T&D Magazine serves the fields of electric utilities, investor owned, rural and other electric cooperatives, municipal electric utilities, independent power producers, electric contractors, wholesalers and distributors of electric utility equipment, manufacturers, major power consuming industries, consulting engineers, state and federal regulatory agencies and commissions, industry associations, communication companies, oil & gas companies, universities and libraries.
«8» Industry News
«57» Suppliers Index
Companies listed alphabetically with complete addresses, phone and fax numbers, e-mail, web site and contact names.
«75» Category Index
Complete list of product & service categories.
«81» Products and Services
This section lists all the companies under the specific product or service that they supply to the industry.
«164» Product Showcase
Read about new products available to the industry.
«168» Advertisers Index
This index is a guide to locate specific display advertisers throughout the directory.
Cover:Edison Electric Institute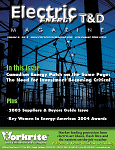 (15MB)
4
Francis Bradley, Vice-President, Canadian Electricity Association, bradley@canelect.ca
It's not often that a large number of disparate organizations agree on the fundamentals, but such is the case in the Canadian energy sector.
14
James Fama, Executive Director, Energy Delivery Group, Edison Electric Institute
Last summer's Northeast blackout may have faded from the public's memory, but the power industry remains steadfast in its commitment to strengthening the nation's transmission system.
20
Damir Novosel, President and General Manager , T&D Consulting at KEMA
The North American blackout of August 14, 2003 has compelled the utility industry, government regulators and general public to ask the same question:
28
Janine King, National Accounts Manager, Document Imaging Solutions, Inc.
The ever-evolving North American corporate culture is demanding organizations to become more efficient through time savings, monetary savings, decreasing future hiring requirements, and recognizing an immediate return on investment in order to justifying capital expenditures.
33
Linda K. Rader
"Persistence is the key to achieving any goal," said Catherine Hughes, president of Schlumberger Canada, Ltd.
45
Max Degerfalt and Graham Herriman, ABB Inc. Canada
The Conventional Solution The substations in the electrical power system have undergone considerable developments through the use of modern primary apparatus, the use of microprocessors in the secondary equipment and the improved speed and capacity of communication to and within the substation.
49
Pedro Cavaleiro, Co-responsible for the Engineering Department, Quintas & Quintas - Condutores Eléctricos S.A.
The calculation of the short circuit capacity for the conductors and screens of power cables is based upon the popular adiabatic method.
52
Brian Owenson, Vice President – Solution Management, SPL WorldGroup
The search continues for a definitive "smoking gun" responsible for the Northeast's blackout last year.
56
Judie Rice, General Manager, A.F. White Ltd.
Transformer oil is a mineral based oil that is commonly used in transformers for its chemical properties and dielectric strength.
161
Kimmo Kauhaniemi, Lauri Kumpulainen, Paul Buchanan University of Vaasa, Finland, VTT Technical Research Centre of Finland, Manitoba HVDC Research Centre
This article is based on power system simulation studies carried out by VTT Processes of Finland (a division of VTT Technical Research Centre of Finland that conducts research in the area of bioenergy and distributed energy), and the University of Vaasa.