«8» Industry News
«22» Annual Utility Safety Conference & Expo
May 12-13, 2004
«38» Canadian Utilities
Equipment & Engineering Show (CUEE) May 18-19, 2004
«52» T&D World Expo and Conference
May 25-27, 2004
«82» Product Showcase
Read about new products available to the industry.
«84» Advertisers Index
This index is a guide to locate specific display advertisers throughout the directory.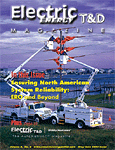 (8MB)
4
The final report of the Canada-U.S. Power System Outage Task Force was recently released,…
12
Satish Saini
THE SIGNIFICANCE OF DEMAND-SIDE MANAGEMENT (DSM)-ITS TOOLS AND TECHNIQUES The recent report by Electricity Conservation and Supply Task Force and Independent Electricity Market Operator (IMO) forecast regarding acute power supply shortage in Ontario are wake up calls to take some immediate actions.
34
Hugh Hoagland Consultant, ArcWear.com & Victoria Reed, University of Southern Indiana, and ArcStore.com
There is no such thing as perfect protection from flame and electric arc hazards but the advances in arc and flame resistant clothing have come a long way to reduce the severity of even the worst accidents and preventing many injuries.
44
Ralph Masiello, Senior Vice President, Energy Systems Consulting, KEMA Inc.
The blackout of August 14, 2003, thrust the issue of transmission grid reliability into national prominence.
48
Thomas E. Neal, PhD & Randell B. Hirschmann
Arc Flash safety has become as important a topic in the industry as electric shock protection.
56
Drew Welton, Sales and Application Engineer, OMICRON Electronics Corp.
Digital technology in protective relaying has come a long way in it's acceptance with utilities and industrial power producers world-wide over the past decade.
60
Mark Ferguson, Padcom, Inc
Halfway through September 2003, the second major hurricane of the year, Hurricane Isabel, swept across the U.S. Central East Coast's Outer Banks.
64
Dean Zastava, Director of iAdvantage services, KEMA Inc. and John McDonald, Senior Principal Consultant and Manager, Automation, Reliability and Asset Management, KEMA Inc.
There's no question that today's economic, regulatory and business uncertainties are challenging energy and utility executives to redefine the very foundation of their competitive value.
68
Ethan L. Cohen, Director, Utility and Energy Technology Practice, UtiliPoint International, Inc.
The utility industry has been on a roller coaster ride for much of the past few years.
74
Guerry Waters, CTO & Sr. Vice President, Marketing & Product Strategy, SPL WorldGroup
CUSTOMERS ARE CONCERNED ABOUT THE ENVIRONMENT. That's a message utilities have heard loud and clear.
78
Jim Menton, Industry Principal, SAP for Utilities
NEW SOFTWARE SOLUTIONS OPEN NEW MARKET OPPORTUNITIES Traditionally, utilities have had little experience with competition or strategies for winning new customers.