Publisher
Jaguar Inc.
Editor
Gordon McCormick
Contributing Editor

Publication Manager
Steven Desrochers
Account Executive
Joanne Mayoff
Gordon Bennett
Production Assistant
Danielle Bernier
Art Designer
Linda Fleury
(MIS) Management Information System
Frédéric Allard
Electric Energy Magazine is published 6 times a year by:
Jaguar Media Inc.
834 Montée Masson
Terrebonne, Quebec Canada J6W 2C6
Tel.: (888) 332-3749
Fax: (888) 243-4562
E-mail:
jaguar@jaguar-media.com
Web:
www.electricenergyonline.com
Electric Energy T&D Magazine serves the fields of electric utilities, investor owned, rural and other electric cooperatives, municipal electric utilities, independent power producers, electric contractors, wholesalers and distributors of electric utility equipment, manufacturers, major power consuming industries, consulting engineers, state and federal regulatory agencies and commissions, industry associations, communication companies, oil & gas companies, universities and libraries.
«8» Industry News
«17» Metering, Billing, CRM/CIS America 2004
The 5th annual Metering, Billing, CRM/CIS America takes place in San Diego, California March 24-26, 2004.
«27» 2004 GeoTec Event
Pathways to Integration, March 28 – 31, 2004 Metro Toronto Convention Centre, South Building Toronto, ON Canada
«50» The 2004 GITA Annual Conference
2004 Geospatial Information & Technology Association (GITA) Annual Conference in Seattle.
«63» Product Showcase
Read about new products available to the industry.
«64» Advertisers Index
This index is a guide to locate specific display advertisers throughout the directory.
Cover:W.I.R.E. Services, a division of Manitoba Hydro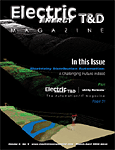 (5MB)
4
Francis Bradley, Vice-President, Canadian Electricity Association, bradley@canelect.ca
A CHALLENGING FUTURE INDEED The state of the electricity distribution business is at a crossroads.
14
Vance Hall, Vice President, MeterSmart, L.P.
GOING BEYOND THE BILLING METER TO INCREASE VISIBILITY INTO ENERGY USAGE DATA AND CREATE GREATER EFFICIENCIES For years in the utility industry, submeters were viewed as a collection of rather simple measurement devices used for one main purpose – utility bill allocation.
22
Shawn Fields, Director of Market Development, Datamatic Energy Systems
Utilities have traditionally collected data from their commercial and industrial (C&I) customers once a month.
32
Tim Huneycutt, Gridlogix, Inc.
IS THIS NEWSCAST IN OUR FUTURE? The temperature in New England today will be above normal, with highs expected in the upper 90's. The Power Grid Stability Index (PGSI) is expected to hold steady today at 85, down 10 points from yesterday due to increased load on the grid and scheduled transmission line maintenance in northern Ohio.
38
Dick Lord, CEO, The Steadfast Group
"4:11," the Northeast blackout that began on August 14th, 2003 at 4:11 p.m. EDT, immediately brought to mind the events of 9/11.
46
Mitch Cowan
GEORGIA POWER KICKS OFF PILOT TO INVESTIGATE NON-OP DATA AUTOMATION Like money left on the table, too many utilities are failing to retrieve and analyze all of the valuable data collected in their substations.
57
Russell A Straayer, President, Data Comm for Business, Inc.
ONE MAS RADIO SYSTEM, MULTIPLE CHANNELS REQUIRED The Rural Electric Convenience Co-Operative (RECC), with headquarters in Auburn, Illinois, is migrating its SCADA system from ILEX proprietary protocol RTUs to open protocol DNP3 RTUs.