Publisher
Jaguar Inc.
Editor
Gordon McCormick
Contributing Editor

Publication Manager
Steven Desrochers
Account Executive
Joanne Mayoff
Ben Malek
Production Assistant
Danielle Bernier
Art Designer
Linda Fleury
(MIS) Management Information System
Frédéric Allard
Electric Energy Magazine is published 6 times a year by:
Jaguar Expo Inc.
CP 50514 Carrefour-Pelletier
Brossard, Quebec Canada J4X 2V7
Tel.: (888) 332-3749
Fax: (888) 243-4562
E-mail:
jaguar@jaguar-media.com
Electric Energy T&D Magazine serves the fields of electric utilities, investor owned, rural and other electric cooperatives, municipal electric utilities, independent power producers, electric contractors, wholesalers and distributors of electric utility equipment, manufacturers, major power consuming industries, consulting engineers, state and federal regulatory agencies and commissions, industry associations, communication companies, oil & gas companies, universities and libraries.
«6» Industry News
«18» DistribuTECH 2004
The 2004 edition of DistribuTECH is being held January 20-22 in Orlando, FL USA at the Orange County Convention Center.
«33» NRECA's TechAdvantage® 2004 Conference & Expo
The TechAdvantage Conference will be held at the Hilton New Orleans Riverside Hotel Tuesday, February 10 through Friday, February 13.
«69» Product Showcase
Read about new products available to the industry.
«72» Advertisers Index
This index is a guide to locate specific display advertisers throughout the directory.
Cover:Design: Laura Godinho VitalEdge Partners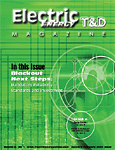 (6MB)
4
Francis Bradley, Vice-President, Canadian Electricity Association, bradley@canelect.ca
Many months have passed since the historic blackout of August 14. With the release in November of the Canada-U.S. Power System Outage Task Force Interim Report, a number of next steps are clear.
12
Edmund P. Finamore, P.E., President, ValuTech Solutions
Utilities today are adopting improved metrics for measuring network reliability that can best be achieved by integrating their outage management systems with other system assets
16
Donald Wallace, Chief Operating Officer, M2M Data Corporation
Have you ever wanted to install a SCADA (supervisory control and data acquisition) system to monitor and control remote equipment or some other asset, but simply couldn't afford to? Well maybe you should take another look.
30
Vance Hall, Vice President – Business Development, MeterSmart™
It's one of their most powerful resources, yet remains underutilized. It's information about their customers' energy consumption and demand patterns.
42
Edward Beroset, manager of the software and test group, Elster Electricity, LLC
Using the Internet to send and receive meter data is a topic of discussion at many utilities. A number of proprietary protocols are available today, but soon, a new ANSI standard protocol will be published to cover this application.
48
Robert Brusetti, P.E., Product Manager, Doble Engineering Company
The industry has always sought better tools to assess the general condition of high voltage equipment and identify potential problems.
54
Mike Scott, Product Manager, Megger
Use of the arc reflection method combined with a high capacitance surge generator and state-of-the-art pinpointing devices for underground cable fault locating will find faults in less time and with less risk of damaging good cable than classical techniques.
58
William K. Campbell , Vice President, Information Security Business Strategy, Symantec Corporation
The blackout of August 2003 highlighted the fragility of the North American electric power infrastructure to the government, utility shareholders and the general public.
64
Most electric utilities have implemented either a Geographic Information System (GIS) or some type of mapping system. Many maintain an asset management system.