Publisher
Jaguar Inc.
Editor
Gordon McCormick
Contributing Editor

Publication Manager
Steven Desrochers
Account Executive
Joanne Mayoff
Ben Malek
Production Assistant
Danielle Bernier
Art Designer
Linda Fleury
(MIS) Management Information System
Frédéric Allard
Electric Energy Magazine is published 6 times a year by:
Jaguar Expo Inc.
CP 50514 Carrefour-Pelletier
Brossard, Quebec Canada J4X 2V7
Tel.: (888) 332-3749
Fax: (888) 243-4562
E-mail:
jaguar@jaguar-media.com
Electric Energy T&D Magazine serves the fields of electric utilities, investor owned, rural and other electric cooperatives, municipal electric utilities, independent power producers, electric contractors, wholesalers and distributors of electric utility equipment, manufacturers, major power consuming industries, consulting engineers, state and federal regulatory agencies and commissions, industry associations, communication companies, oil & gas companies, universities and libraries.
«8» Industry News
«25» AMRA 2003 International Symposium
September 7-10, 2003 America's Center, St. Louis, Missouri.
«49» 2003 IEEE/PES Transmission & Distribution
Conference & Exposition Conference: September 7-12, 2003 Exposition: September 8-12, 2003 Dallas Convention Center, Dallas,Texas
«73» ICUEE The International Construction and Utility Equipment Exposition
September 23-25, 2003, Louisville, KY
«93» Product Showcase
Read about new products available to the industry.
«96» Advertisers Index
This index is a guide to locate specific display advertisers throughout the magazine.
Cover:Photo: Altec Industries, Inc. Page Collage: Linda Fleury, Jaguar Publishing, Inc.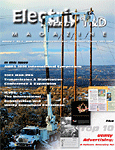 (16MB)
4
Francis Bradley, Vice-President, Canadian Electricity Association, bradley@canelect.ca
The day-to-day challenges of the electricity business often keep the focus of companies on short-term issues.
12
Joseph Weiss, P.E., KEMA
Energy utilities face a greater risk of cyber attacks today than ever before.
15
Linda K. Rader
Walking the tight rope between profitability, public image and customer relations can be tricky, especially when the entire energy industry is watching utility movements closely.
22
John R. Goodman, Senior Account Executive of Metering Systems, Elster Electricity, LLC.
Metering technology is continually advancing in step with on-going advancements in microcomputer, memory, electronic assembly and communications technology.
42
Francis Bradley, Vice-President, Corporate, Canadian Electricity Association, bradley@canelect.ca
Daily meter readings, metered data posted daily to secure websites, annual meter inspections, quick diagnosis of metering problems and coordination of meter repair—these are the backbone services of the Lower Colorado River Authority's (LCRA) support for its customers' major accounts.
46
Dr. Deepak Divan, Fellow IEEE
The utility T&D network represents one of the key assets for most utilities.
60
After enduring its worst financial crisis in decades, the nation's electric power sector now appears to be righting itself and looking forward to the challenges ahead.
66
Michael Galea & Marzio Pozzuoli, RuggedCom Inc., Industrial Strength Networks
Ethernet local area networks (LANs) are steadily gaining more acceptance in substation automation applications where the LAN has become an integral part of the protection and control system.
70
Carl Potter, Potter & Associates International, Inc.
Frankly, safety is a personal thing. Throughout my career I have observed companies trying to determine why their accident rates are high.
82
Rich Wilson, Director of Energy Services, Meteorlogix
Lightning results when rising and descending air within a thunderstorm separate positive and negative charges.
86
Scott Noble, Ray Payne, Portland General Electric
"You can only improve what you can measure."