Electric Energy Magazine is published 6 times a year by:
Jaguar Media Inc.
834 Montée Masson
Terrebonne, Quebec Canada J6W 2C6
Tel.: (888) 332-3749
Fax: (888) 243-4562
E-mail:
jaguar@jaguar-media.com
Web:
www.electricenergyonline.com
Electric Energy T&D Magazine serves the fields of electric utilities, investor owned, rural and other electric cooperatives, municipal electric utilities, independent power producers, electric contractors, wholesalers and distributors of electric utility equipment, manufacturers, major power consuming industries, consulting engineers, state and federal regulatory agencies and commissions, industry associations, communication companies, oil & gas companies, universities and libraries.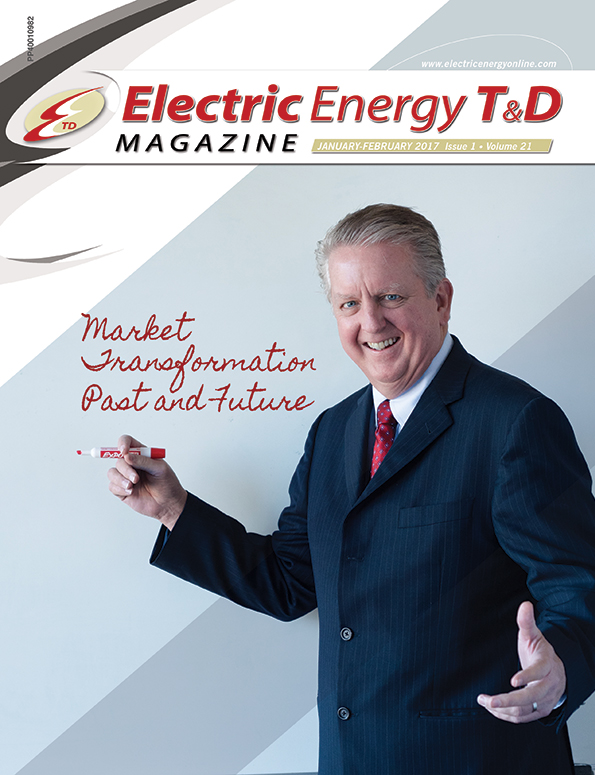 (4MB)
4
Terry Wildman, Editor-in-Chief
History shows the first evidence linking climate change to human activities was carefully documented in 1897 by Swedish physical chemist Svante Arrhenius (1859-1927).
10
Peter Weigand, Greg Lander, Ross Malme, and John Brown
We are in discussion with Skipping Stone's leadership team, celebrating its 20th year in business. CEO Peter Weigand, President Greg Lander and Partners Ross Malme and John Brown highlight major market changes that have transformed markets and where they envision future transformative market shifts.
15
Colin Gibbs
With international goals to limit global warming levels to 2°C or less over the next several decades, the electric vehicle market has the wind at its back.
17
Dr. Guohui Yuan and Dr. Aminul Huque
Advanced inverters are a critical enabler of high solar photovoltaic (PV) penetrations because of their smart functionalities and ability to maintain a balanced grid.
19
Zac Canders
Unbeknownst to me, in the Sept./Oct. 2016 issue of Electric Energy T&D Magazine, Ryan Zaczynski, DataCapable's Data Science & Analytics Director, gave away a big secret.
22
Bert Williams
To reap the reliability, efficiency, security and customer satisfaction benefits of building a smarter grid, electric utilities are deploying smart meters, intelligent electronic devices (IEDs) and other digital apparatus along distribution feeders and in substations.
25
Jennifer Ahearn
Grid Modernization encompasses a vast variety of different functionalities, capabilities and technologies, which can seem overwhelmingly complex for a utility embarking on a Grid Modernization journey.
27
Will Fellers
Vegetation failure is one of the leading causes of service outages, according to data from utilities and other organizations that track utility infrastructure.
30
Doug Houseman and Sean Morash
In the future, all of the analytics, automated restoration, transactive energy and other changes to operations will rely on one key foundation: the underlying grid model and its accuracy.
34
Mary Brittain-White
Socrates in the 5th Century BC commented that children had lost respect for their elders and were generally playing up, a great example of how the passage of time changes very little.
36
Alan M. Ross
Transformers are the heart of an electrical system. As such, any discussion on reliability must start with the transformer.