Electric Energy Magazine is published 6 times a year by:
Jaguar Media Inc.
834 Montée Masson
Terrebonne, Quebec Canada J6W 2C6
Tel.: (888) 332-3749
Fax: (888) 243-4562
E-mail:
jaguar@jaguar-media.com
Web:
www.electricenergyonline.com
Electric Energy T&D Magazine serves the fields of electric utilities, investor owned, rural and other electric cooperatives, municipal electric utilities, independent power producers, electric contractors, wholesalers and distributors of electric utility equipment, manufacturers, major power consuming industries, consulting engineers, state and federal regulatory agencies and commissions, industry associations, communication companies, oil & gas companies, universities and libraries.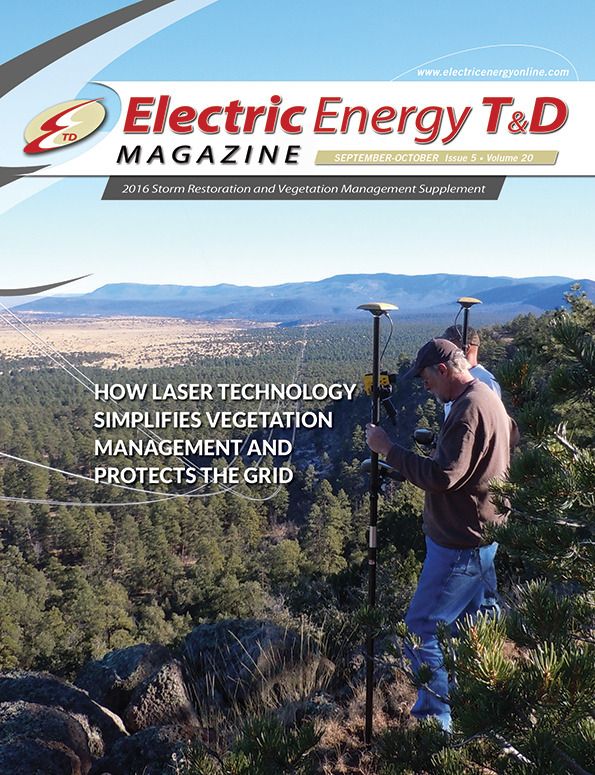 (2MB)
2
Paul Adkins
Besides the obvious safety implications of having adequate vegetation clearance from power lines, power companies often face heavy regulatory pressure to ensure they maintain compliance for these clearance mandates.
6
Scott Beeler
Every year, property owners look to the skies in anticipation of the next summer storm or winter blizzard that might result in a potential power outage. The reality is, the next power outage is likely to come from something much closer to the ground.