Electric Energy Magazine is published 6 times a year by:
Jaguar Media Inc.
834 Montée Masson
Terrebonne, Quebec Canada J6W 2C6
Tel.: (888) 332-3749
Fax: (888) 243-4562
E-mail:
jaguar@jaguar-media.com
Web:
www.electricenergyonline.com
Electric Energy T&D Magazine serves the fields of electric utilities, investor owned, rural and other electric cooperatives, municipal electric utilities, independent power producers, electric contractors, wholesalers and distributors of electric utility equipment, manufacturers, major power consuming industries, consulting engineers, state and federal regulatory agencies and commissions, industry associations, communication companies, oil & gas companies, universities and libraries.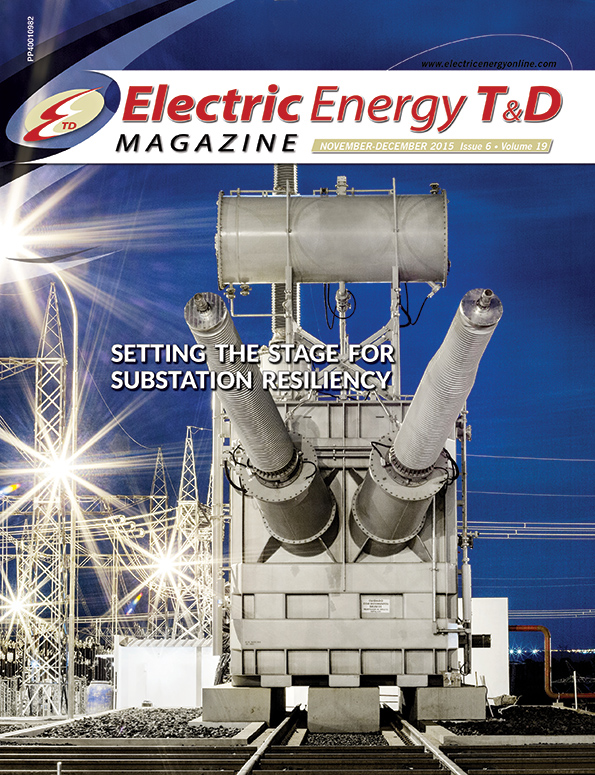 (4MB)
4
Terry Wildman, Editor-in-Chief
In the last issue I mentioned that Canada was in the middle of an election at the federal level. I'm happy to tell you that Canadians from coast to coast to coast turned out to vote in large numbers.
8
Boudewijn Neijens
The landscape of asset management in T&D is changing rapidly. After decades of relative stability, the need to incorporate smart metering and smart grids to accommodate renewables and distributed generation is putting increasing pressure on asset managers.
11
Steve Hallmark
Sacramento has long been called the City of Trees. In the 900-square mile area we serve, SMUD's vegetation management team performs vegetation inspection and planning, and oversees the maintenance of more than 200,000 trees.
14
Karen George
The electricity grid has become increasingly dependent upon information and communication technologies.
18
Craig L. Stiegemeier
Rapid Recovery Transformer advancements – as well as new assessment, monitoring, hardening and rapid repair capabilities – can help utilities boost grid reliability and minimize exposure to potential attacks and outages.
21
John Kullmann
Thinking specifically of emergency response operations, where do drones fit in – both now and in the future?
24
Bruce Cotie
Aging infrastructure is a well-recognized challenge across our nation's energy system with investor-owned utilities spending a record of $19.5 billion in electric transmission infrastructure last year.
27
John Gillerman
Did you happen to see the New York Times story about TXU Energy's free-nights-and-weekends rate plan?
29
Eric Deschenes
Cybersecurity is well understood by information technology (IT) professionals. Many IT security experts have years of experience in securing their computers and networks from hackers and other threats.
31
Jeff Golarz
The use of Dissolved Gas Analysis (DGA) as a method for determining the types of pending or occurring faults within power transformers has been in practice for many years.