Publisher
Jaguar Inc.
Editor
Gordon McCormick
Contributing Editor

Publication Manager
Steven Desrochers
Account Executive
Joanne Mayoff
Production Assistant
Danielle Bernier
Art Director
Linda Fleury
(MIS) Management Information System
Frédéric Allard
Electric Energy Magazine is published 6 times a year by:
Jaguar Expo Inc.
CP 50514 Carrefour-Pelletier
Brossard, Quebec Canada J4X 2V7
Tel.: (888) 332-3749
Fax: (888) 243-4562
E-mail:
jaguar@jaguar-media.com
Electric Energy T&D Magazine serves the fields of electric utilities, investor owned, rural and other electric cooperatives, municipal electric utilities, independent power producers, electric contractors, wholesalers and distributors of electric utility equipment, manufacturers, major power consuming industries, consulting engineers, state and federal regulatory agencies and commissions, industry associations, communication companies, oil & gas companies, universities and libraries.
«8» Industry News
«38» DistrubuTECH 2003
Since its inception in 1991, DistribuTECH (then known as "DA/DSM") has been the leading forum for professionals active in power delivery and related customer service technologies.
«44» Metering Equipment Showcase Section
«65» TechAdvantage 2003
NRECA's TechAdvantage Conference attracts more than 500 cooperative engineering and operations; information services and technology; and purchasing staff.
«78» Product Showcase
«80» Advertisers Index
Cover:Design by Christina Curtis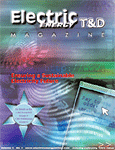 (19MB)
4
Francis Bradley, Vice-President, Canadian Electricity Association, bradley@canelect.ca
Electricity is one of the foundations of the modern economy, accounting for about one-third of all non-transportation energy end-use.
14
John McDonald, Senior Principal, Consultant and Manager, Automation, Reliability and Asset Management, KEMA Consulting
Electric distribution utilities frequently ask the question,"Can we afford to automate?" Given the potential cost, the question is certainly reasonable.
24
Steve Mueller, President and Chief Executive Officer Survalent Technology Corporation
Golden Spread Electric Co-operative members supply electricity to most of the Texas Panhandle.
30
Darold Woodward, PE, Schweitzer Engineering Laboratories
Today Ethernet is the dominant networking technology used in office and home environments.
34
Barry Halvorson, Marketing Manager, MiniMax Software Corp.
Automated staking improves the design, staking and work order process from initial design to final close out.
56
Ron Chebra, Director Comverge & Paul Taylor, Senior Director, R. W. Beck
About ten years ago, there was a great deal of interest by some of the leading cable Multiple System Operators (MSO's) to focus on utility applications over a two-way cable network infrastructure.
60
J. Stratford, Measurlogic Inc. & F.V. Fischer, Dip Proofing Technologies Inc.
Although the reliability of power to Industry is high, momentary power interruptions and voltage sags still occur.
72
Marzio P. Pozzuoli, RuggedCom Inc.
The proliferation of Ethernet networking technology from the office environment to the substation environment for use in real-time mission critical control applications has resulted in both the IEC and IEEE developing new standards addressing networking equipment in substations.
75
Doug Laslo, Autodesk
Everywhere you look, electric utilities are reorganizing to streamline their businesses in an attempt to react more quickly, become more efficient, accomplish more with less – and generally operate more like competitive businesses and less like traditional, regulated utilities.