Electric Energy Magazine is published 6 times a year by:
Jaguar Expo Inc.
CP 50514 Carrefour-Pelletier
Brossard, Quebec Canada J4X 2V7
Tel.: (888) 332-3749
Fax: (888) 243-4562
E-mail:
jaguar@jaguar-media.com
Electric Energy T&D Magazine serves the fields of electric utilities, investor owned, rural and other electric cooperatives, municipal electric utilities, independent power producers, electric contractors, wholesalers and distributors of electric utility equipment, manufacturers, major power consuming industries, consulting engineers, state and federal regulatory agencies and commissions, industry associations, communication companies, oil & gas companies, universities and libraries.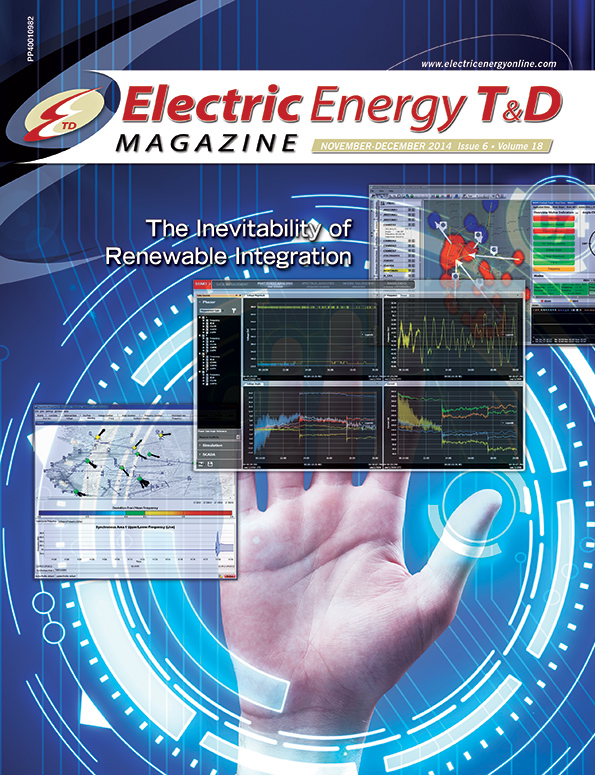 (5MB)
4
Terry Wildman, Editor-in-Chief
I recently attended the CIGRÉ Canada conference in Toronto and was very impressed by the lineup of presenters and cross-section of topics.
12
Karim El Naggar
We are in discussion with Karim El Naggar, Vice President Network Management Solutions with Alstom Grid on the subject of the latest technology related to phasor measurement units (PMUs).
16
Bennett Fisher
Forty percent – that's the portion of energy that commercial and residential buildings consume. Yet, in spite of the fact that buildings are driving nearly half of all global energy consumption, 30 to 50 percent of that consumed energy is wasted.
18
Ralph King
Electric power companies increasingly are the targets of sophisticated attacks. These assaults include not just advanced cyber security threats, but physical attacks as well.
21
Kristen L.K. Brewitt
Effectively meeting electric utility distribution-level needs includes a focus on system reliability. To meet this need, distribution utilities must constantly consider how best to manage and operate distribution networks to deliver power and services continuously, efficiently, and safely at the lowest cost possible.
25
Jim Tomaseski
Like many linemen I've known, I was initially attracted to the job because it offered good pay and benefits, I enjoy working outdoors and, as long as I performed, I'd have job security. Linemen will be needed as long as people use electricity.
28
Tom Gross and Courtney Shafer
Although the golden age of railroads is long past, clearing rail extensions is just one of the infrastructure pioneering projects that TJs LandClearing – a Fairbanks, Alaska company routinely accomplishes.
31
Kenneth Wacks
The Home-to-Grid Domain Expert Working Group (H2G DEWG), part of the Smart Grid Interoperability Panel (SGIP), has participated in the development of a new American National Standard important for smart grid customers.
35
Rudi Carolsfeld
Electricity distribution network operators face unique security challenges in that they cannot possibly track every 'leak' in their distribution grids using smart meters alone.
38
Mike Varney
As a former U.S. Navy captain with over 20 years' experience in operating nuclear-powered submarines, Mike Varney draws insightful parallels between commanding a submarine and operating a utility.
41
Doug Lambert and Dominic Geraghty
San Bernard Electric Cooperative, a rural cooperative distribution utility in southeast Texas, recognized the time, expense, and difficulty inherent in connecting a host of disparate, internal, customized systems that had been independently developed and were not interoperable.