«4» Industry News
«18» ICUEE Show Coverage
Join more than 15,000 of the world's finest construction and utility professionals at ICUEE 2001. ICUEE takes more than one million square feet and fills it with more than 800 exhibitors.
«49» IEEE/PES T&D Show Coverage
More than 150 technical papers will be presented. Four football fields of exhibit space will house 500 major suppliers who will showcase the latest T&D products and technology.
«33 & 64» New Product Showcase
«103» Advertisers Index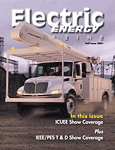 (0MB)
8
Peggy Sailors, communications specialist with ASI
In basic terms, a geographic information system (GIS) for energy services or utility companies bring together, manages and makes use of two broad groupings of information – landbase and facilities data.
38
Hal Gentry, Director, Electric Utility Industry, Autodesk, Inc.
Geographic Information Systems (GIS) software has been around for many years.The trouble is, most of that time GIS technology (and consequently its benefits) has been treated as a niche tool that applies to a specific set of problems and can be managed only by specialists.
42
Craig Preuss, Engineer for the Black & Veatch Corporation
Remote monitoring of substation equipment is used to take advantage of present information technology to reduce operating costs while loading that equipment closer to nameplate ratings and deferring expenditures.
46
Lloyd H. Hill, Vice President of AIR2
Today's most commonly used practice for assessing the in-service condition of wooden poles and arms hasn't changed for over a century!
72
Shervin Shokooh, Richard Ramirez, Tanuj Khandelwal, Operation Technology, Inc.
Modern power management systems require new techniques and cutting edge technology to allow electrical power users and producers to be competitive.
78
John Marks, Science Writer
A utility's distribution system has the greatest impact on customer perception of utility services.
84
Hugh Hoagland, Dr. Tom Neal and Dr. Stephen Cress
The radiated heat from the arc hit his arc and flame resistant shirt and caused little damage to his upper torso but it ignited his denim jeans and burned them completely off of his body except for a bit of denim jean fabric underneath his leather belt.
90
Clayton Hallmark, Grounding Systems LLC and Ernest M. Duckworth, Jr., P.E., Positron Industries, Inc.
Wireless communications providers are using electric-utility transmission towers in high-voltage corridors throughout the world as sites for their equipment and antenna locations.
94
Keith R. Inman, Dip Eng.
Alstom, a long-term and highly-respected global supplier in the power generation, transmission and distribution, as well as in the transportation and marine industries,…
99
Edward Ezer, Pole + Management
Electric and Communications utilities in North America own upwards of 150 million wood pole structures.