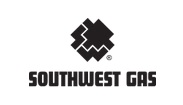 Southwest Gas Corporation


Southwest Gas Celebrates Two Million Customer Milestone
---
November 8, 2017
Southwest Gas announced that it is now serving two million customers in Arizona, California and Nevada. The company has experienced continued customer growth during its more than 80-year history expanding from a one-town, start-up propane company to a natural gas distribution corporation serving customers in three states.
Southwest Gas President and CEO John Hester said, "We are honored that our customers continue to trust Southwest Gas to safely fuel their homes, businesses and fleets. We are grateful to every customer who has enabled us to reach this significant milestone."
Hester continued, "Now two million strong, we pledge to continue working hard to safely and reliably fuel the future while remaining engaged in our local communities and providing a great work environment for our more than 2,200 outstanding employees."
Southwest Gas Corporation was founded in 1931 and is a subsidiary of Southwest Gas Holdings Inc. 
To learn more about Southwest Gas and its history, visit www.swgas.com.
CONTACT
Sonya Headen
(702) 364-3411
Sonya.Headen@swgas.com
For more information: