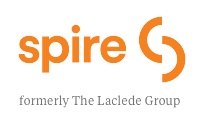 Spire Inc


Spire Reports Third Quarter Results
---
Aug 7, 2017
Spire Inc. (NYSE: SR) reported operating results for its fiscal 2017 third quarter ended June 30, 2017.

Highlights include:
Third quarter fiscal 2017 diluted earnings per share of $0.45, compared to $0.24 in fiscal 2016
Net economic earnings* per share of $0.44 up from prior year results of $0.33
As planned, our gas companies are transitioning to Spire in September
"We delivered strong performance across the company in our third quarter, reflecting growth of our gas companies serving 1.7 million customers across Alabama, Mississippi and Missouri. We are continuing to increase our investment in both infrastructure upgrades and in technology that together enhance the service to our customers while keeping costs low," said Suzanne Sitherwood, president and chief executive officer of Spire. "At the same time, we are transitioning all of our gas companies to Spire, as we work to build a better natural gas company - one that manages costs efficiently, uses technology to make it easier for our customers to connect with us, and supports the communities that we serve."

Click here to read the full press release.
For more information: