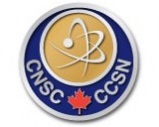 Canadian Nuclear Safety Commission


CNSC publishes regulatory oversight report
---
July 20, 2017
Each year from 2012 to 2014, the CNSC published a regulatory oversight report on the performance of Canada's uranium and nuclear substance processing facilities. In 2015, to better align the reporting requirements for CNSC-licensed facilities, the operating performance of small nuclear research reactor and Class IB particle accelerator facilities was included for the first time in the report.

The Regulatory Oversight Report for Nuclear Processing, Small Research Reactor and Class IB Accelerator Facilities: 2015 is now available.

Click here to read the full press release.
For more information:
Organization:
Canadian Nuclear Safety Commission (CNSC)

Address:
280 Slater St
Ottawa, Alberta
Canada, K1P 5S9
www.nuclearsafety.gc.ca
Tel: 613-995-5894