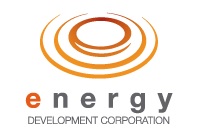 Energy Development Corporation


EDC's Tongonan plant is lone recipient of DENR's Seal of Approval
---
October 28, 2016
The 112.5-MW Tongonan geothermal power plant of Energy Development Corporation (EDC) is this year's lone recipient of the Philippine Environment Partnership Program (PEPP) Seal of Approval given annually by the Department of Environment and Natural Resources (DENR).  This is the 5th time that the Tongonan plant has been recognized by the DENR for exemplary performance in environmental management and protection.
The PEPP Seal of Approval is given to industries which strive to go beyond compliance and are driven to improve their performance with competitiveness, image and supply chain requirements.  Nominees undergo a rigid evaluation process that includes validation of documentary requirements and actual site inspection by the regional offices of the Environmental Management Bureau (EMB).
The 112.5-MW Tongonan power plant is operated by Green Core Geothermal, Inc. (GCGI), a subsidiary of EDC.
For more information: